London 2012: GB women's 4x100m relay team set to miss out
Last updated on .From the section Olympics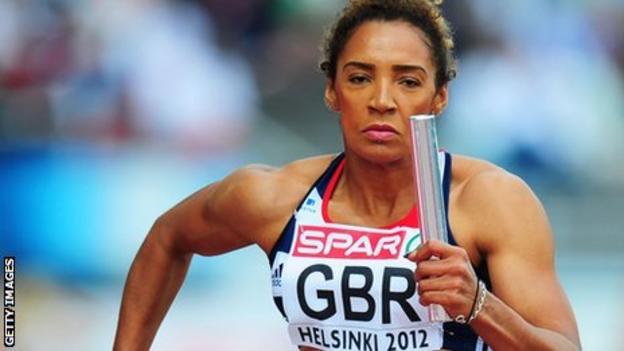 Britain will not have a women's 4x100m relay team at the London Olympics after they were disqualified in the European Championships semi-finals in Helsinki.
Anyika Onuora, Montell Douglas, Hayley Jones and Ashleigh Nelson missed out on Saturday when Jones was adjudged to have left her lane in the third leg.
It means Britain drop two places to 17th in the world and will not be in the top-16 event at the Olympics.
UK Athletics head coach Charles van Commenee called it "a disappointment".
He added: "It was always an accident waiting to happen. We have been underperforming in this area for more than 10 years and at one point you don't get away with it.
"I'm not really surprised. That's why I stopped the programme two years ago. I didn't think they were going to be dangerous in London.
"It's a disappointment, but at the same time I did not expect great things at all. I think it's a true reflection of where we are. We are somewhere between 15th and 20th and on the day we turn out to be 17th."
Van Commenee had labelled the women's relay squad a "disgrace" for their "schoolgirl mistakes" at the last Europeans in Barcelona, giving them a dressing down in their hotel lobby as the media sat nearby interviewing Jessica Ennis following her heptathlon gold.
Asked on Saturday why he stopped supporting them financially when they were clearly in need of improvement, the Dutchman added: "A number of things. One is to focus on where we can be successful. We have limited resources in medical support and finances. I can spend the pound only once so I have to make choices.
"Secondly, it is always a great test to find out how eager people are. I never take support away from athletes to punish them, or to trigger them. I don't use it as a tool that way, but I am always interested to see how people respond."
He added: "There were 100 things to do and this one has not been turned around successfully within this cycle. But most of the time you have to go to the lowest point in order to create an environment to improve."
The women's relay team arrived in Helsinki ranked 15th and knew they needed a good performance in the semi-finals or final to hold off the likes of Poland and Switzerland.
However, Poland ran 43.13 seconds to reach the final and Switzerland recorded a national record of 43.51 to overtake Britain in the rankings.
Britain finished second to Germany in their semi-final - only to be disqualified for the lane infringement.
"I will take all the blame in the world for us not reaching the European final, but I won't take any for two years of missed opportunities," tweeted Jones.
"Qualification should have been done and dusted way before this weekend."