London 2012: Michael Phelps is aiming to repeat Beijing haul
Last updated on .From the section Olympics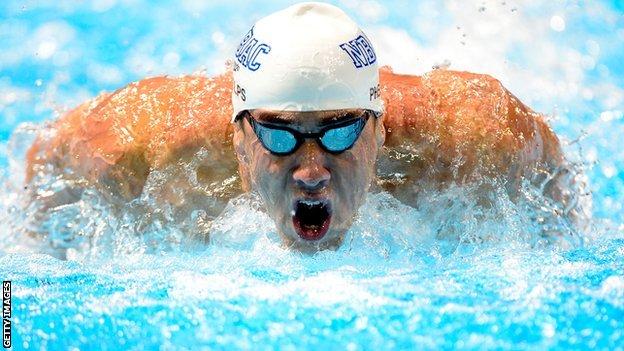 Michael Phelps, who won eight gold medals at the Beijing Olympics, has confirmed he intends to compete in the same eight events in London.
He has already qualified for three of the five individual events and will be automatic choice in the three relays.
After qualifying in the 400m medley and 200m freestyle, he has now secured his place in the 200m butterfly.
Allison Schmitt has also gained qualification for London 2012 in both the 200m and 400m freestyle.
Phelps, 26, needs just three more medals of any colour in London to surpass the overall record of 18 held by Soviet gymnast Larisa Latynina.
He still has the 200m medley and 100m butterfly qualification to secure but is confident of doing so at the qualification event in Omaha.
After a difficult day one, where he was pushed all the way by Ryan Lochte, he eased to victory in the 200m butterfly, finishing well clear of second placed Tyler Clary, with a time of 53.65, the fastest time in the world this year. Clary's frantic finish means he will join Phelps in London.
"Today was the best my stroke has felt throughout the whole meet," Phelps said. "I'm pleased, but I think I need to go faster if I want to win that at the Olympics."
The battle for medals between Phelps and Lochte is set to be one of the most anticipated in the pool. They will go head to head in the 200m and 400m individual medley and the 200m freestyle.
Schmitt, who trains with the same team as Phelps in North Baltimore, will also be on the plane to London after she swam the fastest times in the world since synthetic suits were banned at the end of 2009, meaning she will be one of the favourites this summer.
"I was just going for it and trying to hold on," she told reporters after winning the 200m final on Thursday.
"I'm surprised, but I've been having a great training year, and I've been preparing for this. I still have another race, the 100m free, then I'm ready for London."
By winning the 200m, the 22-year-old, who won relay bronze medal in Beijing, automatically booked herself a spot in the 4x200m relay and could add the 4x100m relay if she finishes in the top six.