Venue profile for London 2012: Velodrome
Last updated on .From the section Olympics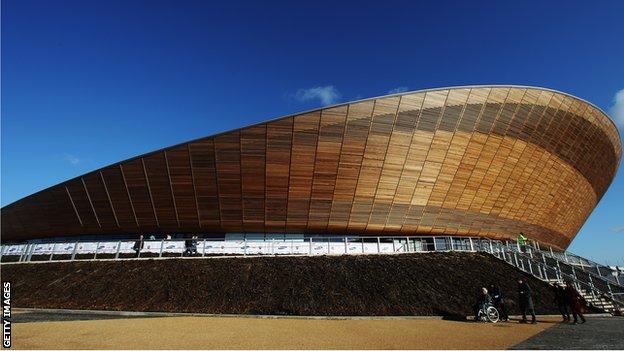 The impressive Velodrome - with its distinctive double-curved roof - was the first Olympic Park venue to be completed, in February 2011.
The venue's designers worked closely with a panel, including Sir Chris Hoy, to produce what Lord Coe calls " a stunning venue fit for champions".
Costing £93 million, it is also the most sustainable building on the park.
For example, the venue's roof deflects the sun to reduce the need for air conditioning, and collects rainwater to cut mains water usage by 70 per cent.
It took a team of 26 carpenters eight weeks to install the Siberian pine track and more than 350,000 nails were used on its 56km of timber surface.
The track is to the cyclists' liking; at February's test event, Australia's Anna Meares and Kaarle McCulloch set the Velodrome's first world record in the team sprint and other records soon tumbled.
'The Pringle'
Last year the Velodrome was nominated for the Stirling Prize, Britain's most prestigious architecture award.
With that in mind, its widely-used nickname of 'The Pringle' is unfortunate.
Rather than depicting a crisp, the roof is meant to reflect the banking of the track.
Legacy
Legacy was at the forefront of the design and build of the Velodrome.
After the Games, the venue will be handed over to the Lee Valley Regional Park Authority and form the heart of a new VeloPark for use by the local community, clubs and elite athletes.
The VeloPark will also include the reconfigured BMX track, a new mountain bike track and a new road cycle circuit.