Harry Aikines-Aryeetey fourth in European Championships 100m
Last updated on .From the section Olympics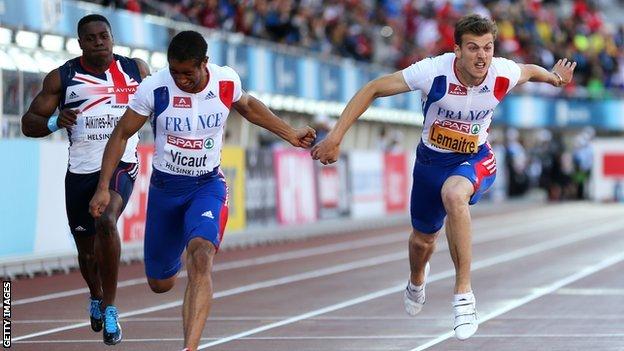 Britain's Harry Aikines-Aryeetey missed out on a 100m medal and an Olympic qualifying 'A' standard at the European Championships in Helsinki.
Frenchman Christophe Lemaitre took gold in 10.09 seconds to pip compatriot Jimmy Vicaut (10.12) with Norwegian Jaysuma Saidy Ndure third in 10.17.
Aikines-Aryeetey was fourth in 10.31 as only five athletes finished the race.
"I am massively upset. This year has just been terrible to me after last year being so good," he said.
"At the start of the year nothing went right for me. As much as I wanted it, as much as I tried to do everything I could, nothing went my way.
"Even going to the Olympic Stadium for the test event, I tore a muscle walking - how unlucky can you get? I had to walk from the station to the warm-up, from the warm-up to the track and it's quite a long distance.
"Every day since winning the World Youths, I've been dreaming about being there [London 2012]."
Earlier in the day, Julia Bleasdale faded away in the final straight to narrowly miss out on a surprise 5,000m medal.
However she did record an Olympic qualifying 'A' standard.
The Briton finished fourth as Russia's Olga Golovkina edged Sara Moreira of Portugal and Ukrainian Lyudmyla Kovalenko for gold.
But she ran a personal best of 15 minutes 12.77 seconds, 13 seconds better than her previous mark.
It was another big advance for the 30-year-old, who in April took almost three minutes off her 10,000m best to record 31:29.57, making her the fifth fastest British woman over the distance.
She must now wait to find out whether she will go to London 2012.
"It will be a nervous few days and we will have to wait and see. It would be an honour to represent Britain at the Olympic Games."
And Bleasdale said she hoped to learn from her mistakes in Finland.
"I gave it my all. I've got to go away and work on that final few laps," she said. "I know I can take it right to the end but not this time.
"I was aiming for the line as quickly as I could but I put in a bit too much work on the penultimate lap and that showed in the straight. I've got to learn to be a bit more patient."
Helen Clitheroe finished in 16th place with a season's best 15:49.13 as Steph Twell missed out through injury.
Clitheroe admits she now "doubts" she will be in the Team GB squad for London 2012 after injury problems.
"I had this opportunity and I've worked so hard to get back running that I felt I owed it to myself to have one last try to get in the team for London," she said. "But it's not to be unfortunately.
"Julia deserves to be selected. I don't think I've reached the criteria."
Lynsey Sharp and Jemma Simpson have both reached the 800m final. Sharp ran two minutes 1.88 seconds in her semi-final to finish second and Simpson was a fastest loser in hers, with a time of 2:01.64.
Great Britain's Lee McConnell clinched her place in the women's 400m final, finishing third in her semi-final.
The 33-year-old Scot, who won European bronze in 2002, recorded a season's best time of 51.98 seconds, 0.63 behind winner Kseniya Zadorina of Russia.
Richard Buck qualified for the men's 400m final after finishing second in his semi-final with a time of 46.13.
But there was worse news for Great Britain in the men's 800m as Gareth Warburton and Mukhtar Mohammed both failed in their semi-finals.