London 2012: Iain Percy & Andrew Simpson ready to test the limits
Last updated on .From the section Olympics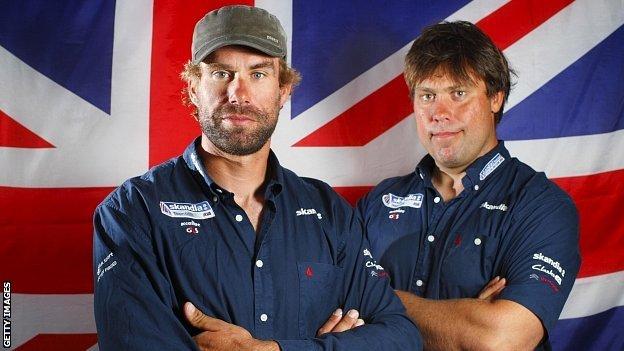 If Ben Ainslie is the king of British sailing, Iain Percy is the prince.
While Ainslie is going for his fourth Olympic gold in Weymouth this summer, Percy is striving for a third in four Games; no mean feat in a sport where you can only compete in one event. If it wasn't for Ainslie, Percy would be sailing's household name.
The 36-year-old may be the oldest member of the British sailing team - for which he is branded "Grandad" by his old mate Ainslie - but it is that experience that could prove critical as he defends the Star title he won in Beijing with crewman Andrew Simpson.
As well as pursuing his own Olympic dream, Percy represents an invaluable source of advice and inspiration for the younger members of the British team.
"The first thing I always say to them - and kind of learnt by accident at my first Games - is that you are going to wake up on the first morning and think, 'oh my God, it's the Olympics'. That is unavoidable," Percy told BBC Sport.
"What is avoidable is letting that turn into a negative. You've got to expect that and almost welcome it because you are going to be nervous. But nerves don't mean your performance will be hurt. In the case of me and Andrew, nerves give us the intensity to push that little bit harder.
"So sleep well and get ready for it."
Beside passing on his own experiences, Percy loves tapping into the youngsters' exuberance.
"It's relearning lessons," he said. "You've got to allow yourself to be excited about the Olympics. You can't just try to have everything under control. Then you will lose that extra spark. Seeing these guys being so excited about going to the Games makes you realise what a big event it is. It fires you up to pull out something special on the day."
Percy and Ainslie's careers have been intertwined since they were kids, coming up through the youth system together with Percy acting as a mentor for the year-younger protege.
They both entered the GB trials in the Laser class for the Atlanta Games in 1996, but it was 18-year-old Ainslie, rising at a rate of knots, who beat the cream of British talent to qualify. Percy finished fourth and went to Bristol University to enjoy student life while Ainslie went on to win Olympic silver.
But sailing was still the focus and, after graduating in 1998, Percy won selection for the bigger Finn dinghy for the Sydney Olympics, winning gold as part of a celebrated British team that included Ainslie and Shirley Robertson. Four years later, he switched to the Star keelboat with crew Steve Mitchell, but they finished a disappointing sixth in Athens.
For Beijing, Percy turned to another of his oldest sailing friends, "Bart" Simpson, who he has known since the age of eight and had edged out in Olympic qualifying in 2000. Instead of recrimination, Simpson went to Sydney as Percy's training partner.
"This was with 13 months to go and it was before Lottery funding," said Percy. "He came with me off his own back and we trained full-on. I owe Bart a hell of a lot from the early days."
The pair operate differently to most crews in that Percy, as the helmsman, calls the tactics upwind, before Simpson, with a better view of the course, takes over the strategy downwind leaving Percy to concentrate on boat speed.
"We're sailing together because of our technical skills but it's nice that you back each other up as mates," said Percy. "You don't want to let your mates down and if you need any motivation it's to do your absolute best for them."
Simpson, who also went to Athens as Ainslie's training partner after again missing selection, added: "We argue at times on the water, as brothers more than anything, and are probably a bit harsh.
"You do have to keep working at the relationship. Sailing is a tough sport, there is a lot of tension to do well and you put yourself under a lot of pressure.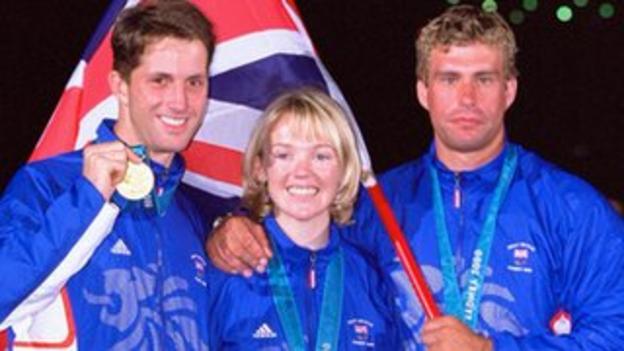 "Even if we argue we understand why we argue, it's only to try to do better. You've got to manifest it in the right way, otherwise it could be very detrimental to a friendship."
The pair had an up-and-down build-up to Beijing, including finishing 52nd at the Star Worlds earlier that year, and they began the Olympic regatta slowly.
"We went into lockdown and said, 'We're not going home until we win this thing,'" said Simpson. Going into the medal race they were back up to second and kept their composure in a nerve-wracking finale to finish ahead of regatta leaders Sweden and clinch gold.
"It was an incredible feeling and to do it with one of your best friends was just brilliant," added Simpson. "Listening to the anthem I had to put my arm around Iain as he looked like he was going to break down."
Since then, the duo have been competing on the America's Cup and big-boat circuits, and combined again to win the 2010 Star Worlds. But their London Olympics campaign was thrust into doubt at the 2011 World Championships in Perth when a back injury to Percy forced them to withdraw.
"The week after I hurt my back I was lying face down on a couch and there was a real worry," said Percy.
"But it's turned into a bit of a positive. I've always neglected my core training, thinking it's not going to make much difference. So I've been doing a lot of work protecting that and realised those trainers and physios were probably right."
They returned to the World Cup circuit in April and have traded places at the top with Brazilian duo Robert Scheidt (Ainslie's old nemesis) and Bruno Prada, who won silver in Bejiing.
But in their final Olympics warm-up in the World Cup event in Weymouth in early June, they finished third. Both admit they are pushing hard - sometimes too hard, says Simpson - to complete the fine-tuning.
"It's a bit like cramming for exams," said Percy.
"The Star class, because of the cost of the campaign, tends to be sailors who have won multiple times at the Olympics and you know won't hand you a medal, won't get nervous on the day and ruin their result. They will stand up and you have to be better than them to beat them that week.
"We're under no illusions, it comes down to one week every four years. One thing you're not going to lack is an effort and intensity. You can't guarantee it is always going to go your way but there is no resting, no taking it easy.
"Every minute you've got to try to the point where you're in agony because there is nothing else to wait for."