London 2012: David Florence on London, rivalry & astronaut suits
Last updated on .From the section Olympics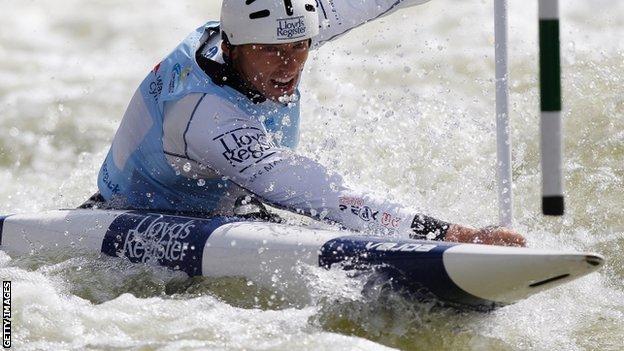 David Florence is Britain's best hope of winning a canoe slalom medal at the Olympics.
The Scot, 29, won silver in the individual canoe, the C1, four years ago in Beijing and will also compete in the double canoe, the C2, with Richard Hounslow in London.
Last month he became the first man to win two gold medals across two classes at a single World Cup event, in Cardiff.
After completing his race preparations recently with a C1 silver medal in the final World Cup event before the Games, Florence spoke to BBC Sport about his hopes for London.
Q: Confidence must be high after winning three World Cup medals in three weeks?
A: It has gone really well. To win a gold and silver in C1, and by such small margins, was amazing. I seem to be paddling well. There are a lot of awesome paddlers out there and it is an 'on the day' sport, so to win any medal is fantastic. It has been good experience and I am looking forward to getting back onto home water now. It is head down for the Olympics.
Q: Do you have specific targets in mind for London? A: I have the same goal every time. I prepare to the best of my ability and really focus on putting down the best run I can. If I put in a great run, I know I am very capable of being on the podium and winning a medal, whatever others do.
Q: How do yours and Richard's performances in the C1 and K1 respectively impact on how well you do in C2?
A: It can work both ways. If you have a great performance in the individual, it can be a boost for the C2, as we showed in Cardiff recently [when Florence, fresh from winning the C1, then won gold in the C2 with Hounslow].
Richard had a disappointing time in his kayak and we were both keen to refocus. It's been a big part of the learning process for me, because sometimes it's quite a short turnaround from either a disappointment or a real high. You still have to prepare well, put a good plan down, and try to execute it."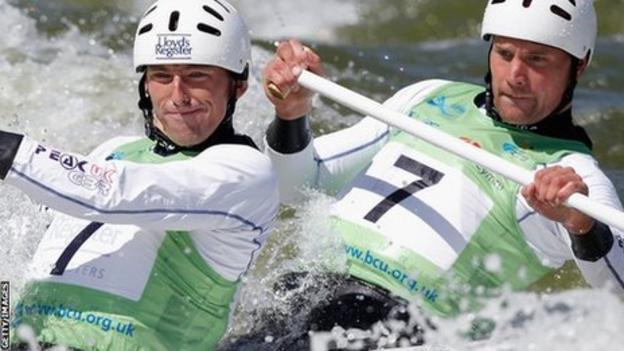 Q: Is the psychology different in the double compared with the single? Do you get angry with each other on the water?
A: It is different when you are out there on your own. In C2 there is a feeling you are in it together, and if one of you makes a mistake, you just accept that is part of C2. In some ways it is nice to be sat on the start line with someone else. You are very much on your own in C1. We are both pretty level-headed. We will be disappointed at times, of course, but we are realistic about it. In this sport the margins for error are very small.
Q: Tim Baillie and Etienne Stott are also competing in the C2 for GB. How much domestic rivalry is there between you?
A: I have been good friends with Tim for a long time before I took up C2 [in 2009] and it was tough having to race against him for an Olympic place. It was always going to be a challenge. Fortunately, the way it has worked out, we all get to go to the Games. They have been an awesome crew as they've shown recently [Baillie and Stott finished fourth, fifth and sixth in the three recent World Cups] and they've won World and European medals so we are both able to push each other on. We are pretty friendly with them, we will chat about the course and are pleased for them when they do well. But you don't see anyone giving each other tips. It is a very competitive sport.
Q: Is competing on 'home' water an advantage?
A: Honestly, no. We have trained there more than anyone else, but everyone else has been over for test events last summer and they were training there for weeks, and they were over in the autumn for weeks too. The top guys in the world will have spent a lot of time there and be pretty prepared.
However, if we could have been training anywhere for the last year and a half for the London Olympics, we would certainly choose to be training on the London course [at Lee Valley White Water Centre, nine miles north of the Olympic Park in Stratford] as we have been. We will possibly know it a tiny bit better, but at the end of the day, the best guys are going to win those medals.
Q: Who are your biggest rivals in C1?
A: Tony Estanguet [the double Olympic champion from 2000 and 2004] is certainly one of the favourites but it is canoe slalom; anything can happen on the day and you don't know what people are going to do. Tony missed out on the finals of the Worlds last year and [Michal] Martikan [who won gold in the 1996 and 2008 Games, and silver in 2000 and 2004] didn't even make the final in Cardiff [the recent World Cup event that Florence won]. Rivalry is almost irrelevant. You don't go down the course at the same time and there is nothing anyone else does which affects what I do. If you can put down a great run, you have a chance.
Q: Is it true you grew up in the same street as Sir Chris Hoy?
A: No! We did live in the same neighbourhood in Edinburgh but I only met him for the first time in Beijing. We had the same strength and conditioning coach for a while. I was good friends with [Scotland rugby player] Chris Cusiter though. We lived on the same street in Aberdeen.
Q: What is the attraction of canoe slalom?
A: When I first started, I loved the feeling of just being able to control a canoe, and the excitement of paddling down big white-water rivers - and smaller ones as well, to start with. I am quite a competitive person so to get the chance to combine the skills of mastering white-water in competition gave me great enjoyment. Apart from anything else, it is a good sport to train for. It is hard and requires a huge amount of commitment but compared to some sports, where it is just a case of putting in the miles or the time, it is great fun every day. It is a very technical sport and always challenging with different rivers to tackle.
Q: Would you rather be in space than at Lee Valley?!
A: I did apply before the Beijing Games to become an astronaut with the European Space Agency. Needless to say, I wasn't successful. It was just something that came along at the same time, an amazing opportunity. I thought I had some of the skills they were after. As it turns out, I wasn't quite what they were looking for. But I have been quite happy doing what I have been doing for the last four years.
It is a great source of amusement to my family and friends though. One of my mates tried to buy an astronaut suit off e-Bay so he could wear it to the Olympics…fortunately I don't think he was successful.
David Florence was talking to BBC Sport's Bryn Palmer.