Great Britain's Olympic preparations impress Pooley
Last updated on .From the section Olympics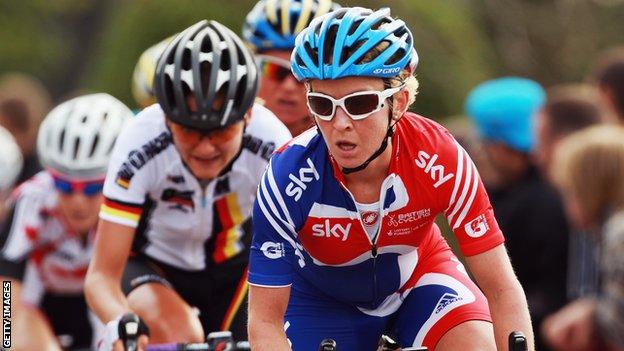 British cyclist Emma Pooley has been impressed by Team GB's preparations ahead of the London Olympics.
Pooley, who was raised in Norfolk, took silver in the Beijing Olympics Time-Trial and feels GB's build-up for this summer's games will benefit the team.
She told BBC Leicester: "[GB have] a good set up, not just on the day or training camp. But the perpetration, build-up and scientific research.
"Everyone's very passionate about it and British cycling is really good."
She added: "'No stone unturned' is their motto, and that's right."
"If there's anything that can help, you've got to try and do it because you've got to say after the race that there was nothing we could do to go any faster."
The 29-year-old was originally a keen cross-country runner, but injury whilst at university led her to take up cycling.
And the 2010 World Time Trial Champion is still clearly overcome by the way in which her career has panned out to date.
"When London was awarded the Olympics I was into sport, but I wouldn't say it was my childhood dream. I could never have dreamt I would go to the Olympics."
She continued: "I just wasn't anywhere near good enough. It's quite bizarre really to think about that."