Adam Gemili decides to race in London 2012 100m
Last updated on .From the section Olympics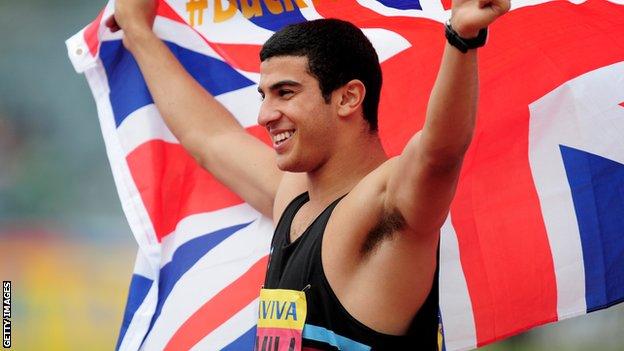 Teenager Adam Gemili will compete in the 100m at London 2012 - as well as the World Junior Championships.
Last month the 18-year-old ran 10.08 seconds - the second fastest time in Europe this year.
However his coach Michael Afilaka had raised concerns that Gemili may not be mentally ready for the Olympics.
But Gemili told BBC Radio Kent: "My plan is to go to the Olympics and compete with the world's top sprinters and not get beaten too badly."
Gemili confirmed his qualification by at the weekend. However afterwards Afilaka described him as an "emotional wreck".
The former Chelsea FC trainee, who was a complete unknown at the start of this year, had been planning for next month's World Junior Championships in Barcelona.
But the Dartford teenager finished in 10.08secs at a meeting in Germany. It made him the second fastest European this year after France's Christophe Lemaitre.
Now he has decided to compete in both the World Juniors and the Olympics.
"I've got two weeks until the World Juniors so I'm just going to get my head down and train hard for that," he said. "That was my aim for this year until I ran 10.08secs and the Olympics became a possibility.
"After that it's all focused on the Olympics."
Gemili only made the full-time switch to athletics in January, having previously been on the books of Dagenham & Redbridge as well as Chelsea.
Having already attained the 'A' standard, the Blackheath and Bromley Harrier finished runner-up to Dwain Chambers in Birmingham to seal his Olympic spot.
He admitted that the scale of his achievement had only just hit home
"It took a while to sink in," he said. "The night after I ran I didn't get to sleep until three in the morning. I just couldn't believe it. It was a new feeling for me.
"People train their whole lives to do it. I'm lucky that I've come into athletics at the right time and I've qualified.
"I'm an 18-year-old and I've qualified for the Olympic Games, so to be picked at this age in front of all the sprinters in the whole country feels amazing."
Chambers, 34, is expected to get one of the 100m Olympic places despite not achieving the 'A' standard this year. His time at the trials of 10.25secs was seven hundredths of a second outside the required level. However, he ran 'A' standard times last summer - and selectors can take those into account.
Team GB, which will announce the athletics team next week, can take three 100m sprinters. James Dasaolu, the only other man with the qualifying mark of 10.18secs, held off Simeon Williamson to take third at the trials and is favourite for that final discretionary spot.