Diana Davies surprised that British high jump record still stands
Last updated on .From the section Athletics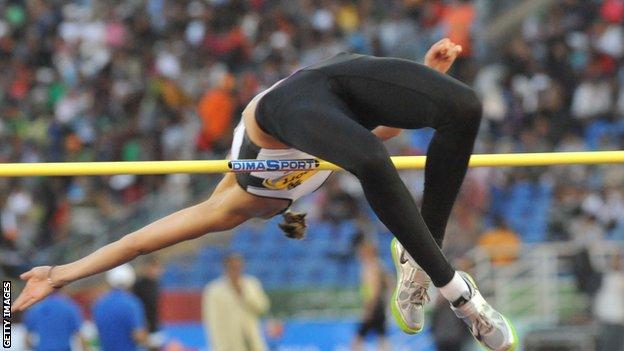 Diana Davies is amazed that her female British high jump record still stands, despite setting it 30 years ago.
Davies' jump of 1.95 metres on 26 June, 1982 in Oslo has been equalled by both Jessica Ennis and Susan Moncrieff.
However, no British woman has ever gone higher, and Davies admitted she did not think it would have lasted so long.
She told BBC Northampton: "When I actually jumped 1.95m, it was only a couple of years since it had been broken, so I didn't expect it to stay."
The 51-year-old added: "I would have liked to have broken it as well obviously, and got a bit higher."
Davies also revealed that at the time of breaking the record, she had to fit her training schedule around work at a shoe factory due to funding issues, but felt that her love for the high jump helped motivate her more than any financial influence.
"There was no money about then. You did it for the love of the sport. You didn't do it for what money was in it.
"I did get the odd grant now and again and eventually get some sponsorship. I did get a car later on for a year leading up to the Olympics."
She continued: "But there wasn't a massive amount of money sponsorship, it was just people trying to be helpful."
Ennis, one of Britain's biggest hopes for this summer's Olympics, will be hoping to break Davies' long-running record at the London games, and the former Olympian would be happy to see Ennis to do so.
"It would be nice for her to better it," added Davies, "I'd have thought it would have gone by now."