London 2012: Olympic blow tough on Molly Renshaw, says coach
Last updated on .From the section Olympics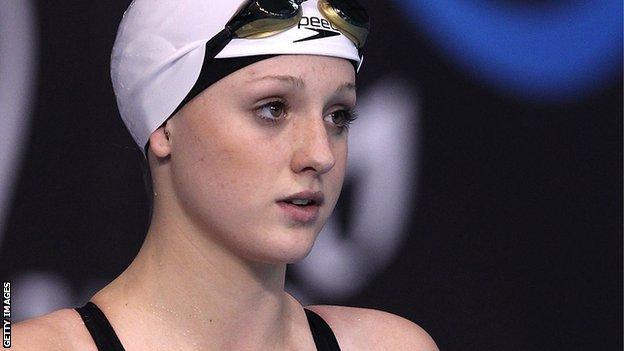 Molly Renshaw's coach Andi Manley says it is difficult to make sense of the qualification rules which will prevent the 16-year-old Derbyshire swimmer from competing in the London 2012 Olympics.
Renshaw won the 200m breaststroke at the National Championships but just missed out on the qualifying mark.
Manley told BBC Radio Derby: "For some reason Great Britain had two trials and as she came second in March, although she hit the time, she wasn't selected.
"It doesn't make sense."
He added: "I guess that's because I have been affected by it. But in our case it has worked out horribly."
Renshaw swam two minutes 27.72 seconds to win on Thursday night but the qualifying standard set by British Swimming is 2:26.89, meaning she missed the mark by 0.83 of a second.
The heartbreaking thing for Renshaw is that she swam the time before, recording 2:26.81 to finish second to Stacey Tadd at the first trial in March.
However, the rules state that only the race winner that was guaranteed a place on the squad.
Manley added: "Having swum the qualification time and there being a space available, it seems she will be overlooked for selection which we are obviously gutted about.
"Every other country in the world will have one trial and the fastest two swimmers will be selected if they hit the time."
There is still a very slim change she could be chosen, but only in the unlikely event that British Swimming ignore their own selection policy when the squad is announced on Monday.
Manley does not hold out much hope though and is distraught that Renshaw, who tweeted that she was gutted after the event, will miss out on London.
"We have pretty much exhausted every eventuality now," he added.
"I spoke to the selectors at length and it seems it's pretty clear-cut on the selection policy. It is a very long document and unfortunately Molly's circumstances don't slot into any of those criteria.
"She made the World Championships last year and that was her breakthrough year and a year ago we identified this as the big one.
"The opportunity to swim a home Olympics is only going to come around once in a lifetime and very sadly it looks like she will be overlooked."