Aaron Cook's camp submits 'new evidence' to BOA
By Nick Hope
BBC Olympic sports reporter
Last updated on .From the section Olympics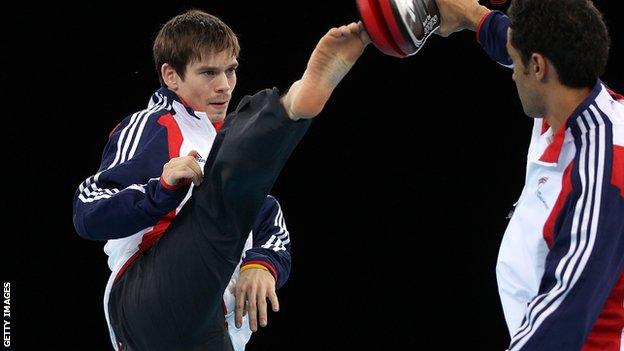 Aaron Cook's team says new evidence supports their view GB Taekwondo was planning to overlook him for Olympic selection as early as August 2011.
However, GB Taekwondo deny their -80kg Olympic selection was pre-determined.
"This is simply untrue and malicious," read a statement.
"We are seeking more information on the very serious and damaging allegations made and will comment further in due course."
Cook admitted last week that he felt "cheated" out of a place at the Olympics after climbing to world number one and winning nine tour titles since leaving the GB academy last year.
The new "wide-ranging" evidence includes an article published in February of this year on leading taekwondo website Mastaekwondo.com.
It alleges overhearing GB officials discussing their anger about Cook's decision to leave the set-up at a camp in Spain in August and that they were already looking for other athletes to fill the -80kg Team GB berth in London.
The website's chief executive Claudio Aranda has since confirmed that they will give evidence if called upon.
"As we consider ourselves a professional media organisation... fully responsible for the news we publish, we agreed to give our testimony to the facts," said Aranda.
A statement continued: "That is why we hope that this contribution can contribute to British justice that this case has a favourable decision, not only for British Taekwondo, but to the entire world of taekwondo."
Speaking earlier this month, GB's Taekwondo performance director insisted there was no 'witch-hunt' against Cook and that although they were disappointed he chose to walk away from their world class programme, this was not considered in their Olympic selection.
"There has been no hidden weighting [in favour of Muhammad] and we have followed the very strict and clear rules of our selection criteria," he said.
Cook is taking legal advice from Michael Beloff QC of Blackstone Chambers, who worked with British rhythmic gymnasts following their governing body's decision not to nominate them for London 2012, after they failed to attain agreed performance targets at the Olympic test event.
That decision was successfully overturned and Cook's team hope their latest move will provoke a strong reaction from the BOA.
Chief executive Andy Hunt said on Tuesday they 'unanimously approved' the process GB Taekwondo had followed, but it is believed the BOA would be willing to meet Cook's representatives at the Court of Arbitration for Sport rather than have the case heard by the High Court ahead of the Games.
The issue could be further complicated by the World Taekwondo Federation who are currently conducting their own investigation into the GB Taekwondo's selection procedure.
Should they rule that GB Taekwondo brought the sport into disrepute they could lobby the BOA to revise their ratification of Muhammad.
A statement on the Professional Sports Group website continued: "We have fully supported the World Taekwondo Federation's investigation into the selection process."
The BOA has three working days to respond to the latest submission by Cook's team and it is expected they will reveal their decision by Monday.