Keith Cook's Olympic appeal bid rejected by British Fencing
By Brendan McLoughlin
BBC Sport
Last updated on .From the section Olympics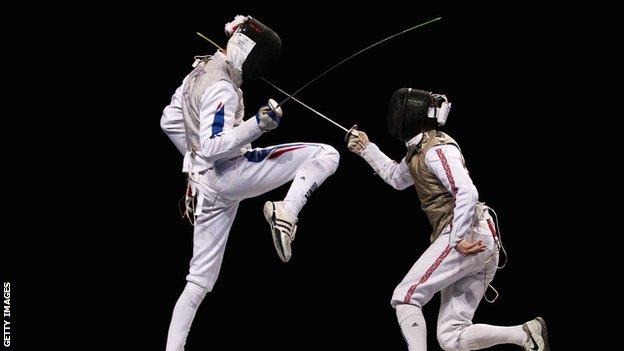 British Fencing has rejected Keith Cook's appeal against his exclusion from the London 2012 Olympic squad.
Cook claimed he was initially left out because he who told him they did not know he wished to be considered.
His request for an appeal hearing was rejected on the grounds the deadline was "long past".
But a lawyer has now taken up his fight, citing "multiple breaches of the selection process".
Scottish sports lawyer Rod McKenzie, a partner at Harper Macleod, who acts for the Scottish Premier League and is the legal adviser to the Glasgow 2014 Commonwealth Games, has taken up Cook's case on a pro bono basis.
He has written to British Fencing asking for clarification from the organisation following its rejection of former British champion and five-time Commonwealth medallist Cook's appeal bid.
In the letter, he wrote: "Mr Cook has complied, to the letter, with the provisions of the selection policy whereas there have been multiple breaches of the selection policy by British Fencing."
Mr McKenzie, who fenced for Scotland at junior level, told BBC Sport he decided to give his support to Cook as he believed the athlete had suffered a "grave injustice".
"He palpably is entitled to his appeal process so they need to sort it out," he added.
British Fencing said athletes who wanted to be considered for the Games were required to pass on their contact details as part of a formal selection process and insists Cook failed to do this.
The body says despite this, Cook was still considered but did not reach the required standard.
British Fencing communications director David King told BBC Sport: "We stand by the fact that our selection procedure is very clear. 25 other athletes participated and five appealed their non-selection. Keith Cook did not participate in the process.
"To say he only became aware of it at a later date is, I think, a weak argument. He just didn't get the results he needed."
He also cited strong performances by the men's foil fencers chosen ahead of Cook at the European Championship at the weekend as vindication of British Fencing's selection - Richard Kruse won bronze, James Davis and Laurence Halsted recorded last-16 placings and Husayn Rosowsky claimed the scalp of world number 10 Victor Sintes before he was defeated.
King added: "I know Keith is disappointed. He is a good fencer and we value him but we need to move on now."
Cook said: "I am going to fight this injustice tooth and nail."
Great Britain, as the host nation, has 10 fencing places but only two athletes, Richard Kruse and Natalia Sheppard, have met the Olympic qualification standard.
The remaining eight athletes have been chosen on a discretionary basis.