London 2012: GB volleyball team based at fire station
By Stephan Shemilt
BBC Sport
Last updated on .From the section Olympics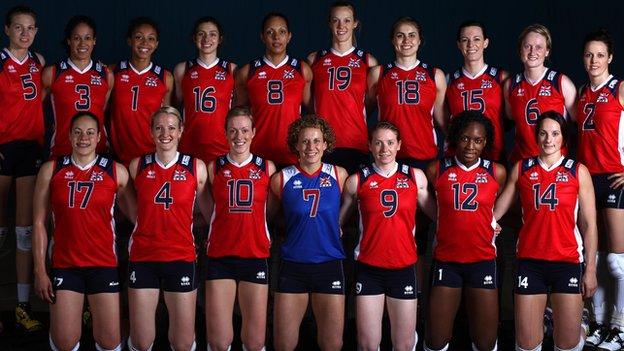 Lucy Wicks is bored of talking about funding cuts.
Something as trivial as not receiving any financial backing was not going to get in the way of the opportunity to become the first British women's indoor volleyball team to compete at an Olympics.
"We were very angry at the time and didn't really understand it," Wicks said. "But we made the decision that it didn't matter whether we had funding or not, or what else was thrown in our way as an obstacle, the chance to represent our country at a home Olympics was what we wanted."
Without public backing, Team GB have funded their own way to London with money-making schemes such as a sponsored bike ride from Sheffield to the capital and the "Adopt an Olympian" programme, where schools hold fundraising events in exchange for blogs, visits, interviews and training from a member of the squad.
As well as raising money, the team have also had to find ways to save cash, particularly in the summer months when they return to the UK after playing professionally in leagues across Europe during the winter.
Last year, while they were training in Dorset, 16 players were housed by Wicks' parents and two of their neighbours. This year, the whole squad is spending the summer living at the South Yorkshire Fire & Rescue training centre in Sheffield.
"We trained down in Poole and went into 10 or 15 schools," Wicks continued. "My mum did a really good job, she fed us and got us some free meals at local restaurants in exchange for the odd signed photo. My mum's very organised, she's great at getting things done.
"This year, we got a really good deal with the South Yorkshire Fire & Rescue training centre. They're putting us up for the whole summer. We've got everything we need here, they're so helpful.
"Firemen come here to do training in the daytime, when we're out, then we stay in the rooms.
"We haven't seen many of the firemen, but they're loving having an Olympic volleyball team wandering around."
Twenty players are training in Sheffield, but only 12 will be named in the Olympic squad in June, meaning eight who have effectively put their lives on hold in order to compete in London will miss out.
"Every player has sacrificed a lot over the past four or five years, so for those who miss out it will be devastating," added Wicks, whose licence as a physiotherapist has lapsed during her bid to compete at the Games.
"Careers take a back seat, finances take a back seat. People used to own houses, or have boyfriends and a proper career. All of those things have disappeared for this one goal.
"But even those who don't make it I think will look back with no regrets."
Wicks insists the hosts, who do not have to qualify for the Games, will not be there simply to make up the numbers.
GB are aiming for a top-eight finish, an ambition that does not seem so fanciful after a recent 3-2 win over Peru, a side ranked 17 in the world.
"Whatever we achieve at the end of it we can say we've done it all ourselves," said Wicks. "Everything that has been thrown in our way, we've overcome.
"We're still going for exactly the same goals that we would have done had we had funding, that hasn't changed, because we still believe we can make the top eight at the Olympics."
Wicks points out that, as the first British team to compete in the sport at an Olympics, GB will be making history regardless of their results.
A noteworthy achievement indeed, but one made all the more special by the path they have had to take to London.
"As I look back on my Olympic journey, I know I wouldn't have done anything different," Wicks concluded. "Everything that's in my control, I wouldn't change. Things like funding, we don't have any control over, but it would have been great if we'd had a bit more financial support.
"We appreciate what we have now. It's not easy to represent your country and it's not meant to be easy, you've got to work hard, whether it's to try to raise money or to try to figure our what you're going to cook that doesn't cost very much, it's all part of the challenge, but it's got to be done.
"For everyone who is part of Team GB it will mean a lot, but for us, who know the blood, sweat and tears that have gone into getting us there, it will mean even more."