London 2012: Archer Alison Williamson faces wait to learn 2012 fate
Last updated on .From the section Olympics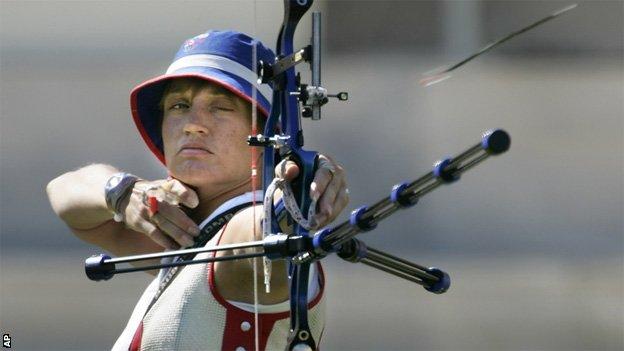 Shropshire archer Alison Williamson is facing an anxious wait as she bids to take part in her sixth Olympic Games.
Last weekend she competed in the shoot-offs at the Lilleshall National Sports Centre in Newport.
The top two in each of the men's and women's competition were awarded a place in the teams for London 2012, but 41-year-old Williamson finished third.
"I did my best and that's all I can do in the end, but fingers are crossed and I'm trying to be optimistic," she said.
Williamson still has a good chance of picking up the wild-card place, which is open to the discretion of performance director Sara Symington and head coach Lloyd Brown.
"We've got a press conference on 9 May at Lords, which is the venue for archery, and the team will be formally announced then," added Williamson.
"I'm not exactly nervous, because there's a lot of work to do between now and the Games themselves and I'm just focused on that.
"I'm lottery funded, so it's like a full-time job. Every day I go to Lilleshall and I shoot between 200 to 300 arrows and go to the gym."
There was a day off on Tuesday as she officially opened the £6m RAF Shawbury Jubilee Hall Sports and Fitness Centre, by shooting arrows into an Olympic ring.
"Obviously I had to hit it so there was a bit of pressure," said Williamson.
"But it was an honour and a privilege to be asked and a great chance to show off the sport of archery to everyone who was there."
Before the team announcement in May there is one final opportunity to stake a claim, with Williamson part of the British squad leaving on Friday for Turkey to take part in stage two of the World Cup competition.
For the Shropshire archer, who made her Olympic debut in Barcelona in 1992, she said the chance of competing in her sixth Games in her home country was a huge attraction.
If she succeeds, she will become one of only three British athletes to compete in six summer Olympics.