London 2012: David Beckham should not be picked - Lineker
Last updated on .From the section Olympics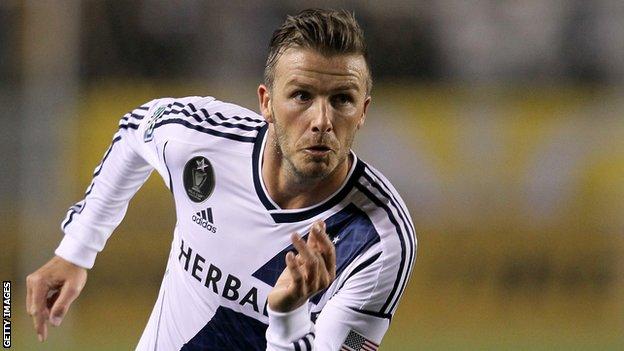 Gary Lineker says David Beckham does not deserve a place in the Great Britain squad at the 2012 Olympics.
Team GB manager Stuart Pearce can pick three over-age players in a squad otherwise made up by Under-23s.
Lineker said: "If you are going to pick the best three over-age players, then you would say no [to Beckham]."
The ex-England striker also told BBC Radio 5 live that the Football Association must appoint a new national manager as soon as possible.
Former England captain Beckham, who will be 37 by the start of the Games, is among 80 players in contention for a place in the squad and has spoken about his desire to be captain in London.
Lineker suggested that while Beckham, who currently plays for LA Galaxy in the United States, was not worth a place on purely playing grounds, there might be another reason that could see him make the cut.
"If it is a 'thank you' for all the work that Beckham has done for the Olympics and getting it to London, then it is a different matter," the Match of the Day presenter told the Richard Bacon programme.
"I would pick my best three players if I was in charge. That is who I would want, but who knows? It might be a done deal."
The draw for the 2012 Olympic football competition will take place on Tuesday, 24 April at Wembley.
Lineker has also joined the likes of his fellow former England striker and Match of the Day colleague Alan Shearer in calling for the Football Association to rapidly appoint a new England manager.
"What is going on with the FA? When are they going to decide or even approach some form of England manager or let [interim boss] Stuart Pearce know he's got the job for the Euros? Somebody has to prepare," he said.
"If they were going to go for Harry Redknapp, which we all presume they will, they don't want to upset the end of Spurs' season - but it seems they have already done that now so they might as well get on with it.
"If they were going to go with anybody, they should have done it by now."