London 2012: Radcliffe will not run if not 100% fit says friend Yelling
Last updated on .From the section Olympics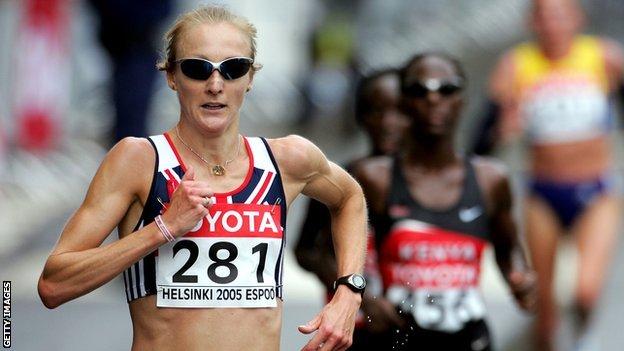 Liz Yelling says she hopes to see a fully fit Paula Radcliffe in the Olympic marathon but believes that if she is not 100% she will not race.
World marathon record holder Radcliffe, 38, has seen injury and illness affect her previous Olympic marathon attempts.
"I think if she's injured she won't put herself through that again," said Yelling, a lifelong Radcliffe friend.
"She can't stand on that line 90%, 80% fit anymore and hope that she's going to have a good run."
Radcliffe, who was well below her best in a half-marathon in Austria on Sunday, set the women's world record for the marathon in 2003 with a time of two hours 15 minutes 25 seconds.
She was favourite for the marathon at the Athens Olympics but failed to finish as the side-effects of anti-inflammatories taken for an unpublicised calf injury took their toll.
The following year she won the marathon at the World Championships but at the 2008 Olympics the aftermath of a stress fracture in her left femur contributed to her coming home in 23rd place.
"She knows she needs to be in good shape," Yelling told BBC Sport.
"Paula felt obliged to race [in Austria] when she wasn't particularly well. She's being much more sensible with her training. She's looking after herself going into the Olympics.
"She'll be there fighting fit, hopefully, on 5 August."
Radcliffe has come in for criticism from some quarters for failing to produce her best in the Olympics but Yelling, who will bid for a place in the British Olympic team in the London Marathon on Sunday, dismisses the critics.
"People remember the very bad and the very good. She is the world record holder by minutes and she is the best marathon runner we have ever had in this country - what she has achieved is amazing," insisted Yelling.