Nathan Robertson admits London 2012 chances have gone
By Jessica Creighton
Olympic sports reporter
Last updated on .From the section Olympics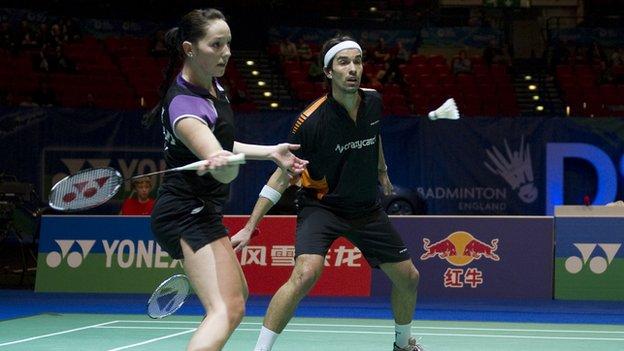 British mixed doubles pair Nathan Robertson and Jenny Wallwork have told BBC Sport they have lost their chance to be selected for the 2012 Olympics.
After losing in the quarter-finals of the penultimate warm-up event, Robertson said they were "too far behind" their British rivals, Chris Adcock and Imogen Bankier.
The 2004 Athens silver medallist said: "We expect them to pick the other pair.
"We gave it a great shot, but now we'll probably just leave it."
Anglo-Scottish duo Adcock and Bankier beat Robertson and Wallwork in the quarter-finals of the European Championships 18-21 21-19 22-20 to widen the gap between them in the world rankings.
With the highest placed GB pair most likely to be selected for the Games, Robertson and Wallwork knew they needed a string of good performances to improve their world ranking of 20th - 10 places below Adcock and Bankier.
Robertson added: "We knew this week was another great chance for us [to catch up] and we gave it a great shot.
"There's nothing more frustrating than putting yourself in the position and not converting.
"I will happily be heading into retirement if I'm not selected for the Games."
Wallwork cites last August's world championships, where they had a surprise exit in the opening round, as a turning point in the qualification race.
"The Worlds was a big deal for us - we were expected to do quite well. That was a big disappointment and we lost a lot of confidence."
Conversely, Adcock and Bankier secured a silver medal and have not looked back since, twice beating China's world number one pair Zhang Nan and Zhao Yunlei this year.
In the semi-final on Friday, Adcock and Bankier will face Robert Mateusiak and Nadiezda Zieba, the 2010 silver medallists from Poland.