High jump legend Dick Fosbury on the pressures of Olympic fame
By Saj Chowdhury
BBC Sport
Last updated on .From the section Olympics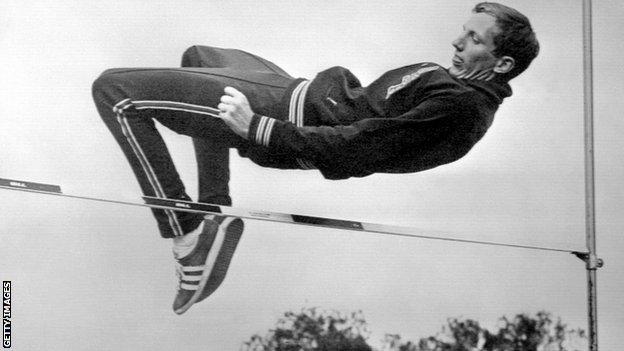 Dick Fosbury has few regrets about the fallout from Mexico 1968, but his tale gives any stars born at London 2012 some food for thought.
Fosbury was an anomaly at the Olympics. His gold-medal winning performance in the high jump received grander recognition than those afforded to others because of the unique technique he adopted - the "Fosbury Flop".
The success of his innovation made the 21-year-old one of the four positive standout athletics stories for the United States that year - the others being Bob Beamon's epic leap in the long jump, Jim Hines's sub-10 second 100m and Lee Evans's sub-44 second 400m.
But it was the saga of the unassuming Oregon State University student that made him the number one target for some media organisations.
"I arrived back from the Games at the end of the October and still had two months free before returning to college," Fosbury told BBC Sport.
"I had invitations to appear on TV programmes and one of those was The Tonight Show with Johnny Carson on NBC.
"I remember comedian Bill Cosby was on that night too - he was a former high jumper. They got me to jump on stage; I slipped at the first attempt but then managed to clear 6ft.
"I was also a guest on the Dating Game with decathlon champion Bill Toomey. Neither one of us was selected but it was fun nonetheless. Then there was also an invitation event in Berlin that I attended - that was the first time I had jumped in Europe.
"It was all great, but I came back to the reality of classes in January. I jumped a few more times indoors, until I took a break.
"I was mentally exhausted. I was burnt out from having jumped 10 months of the previous year.
"There was also too much attention. People put me on a pedestal and kept me there. I didn't want to be on a pedestal. I received my medal and I wanted to be back on the ground with everyone else."
The path to fame and pain began in Oregon. Fosbury initially used his 6ft 5in frame on the basketball courts, but he also had another passion at school.
"We had many options in those days - you could become an artist and become involved in music. We also had theatre.
"I loved to participate in singing and did some work on stage in different musicals which always conflicted with sport. Our coaches wanted us to concentrate on their sport."
Fosbury was eventually forced to focus, so he left basketball and theatre behind and chose to pursue a high-jump career.
The American began experimenting with the 'flop' at school which, encouraged by his coaches, he had all but perfected by the time he was in higher education.
Like many of those competing in London, the youngster had to sacrifice a normal university life, and at times his education, to stay on track for the Olympics.
"My results were really starting to come through. But at same time I was having success in athletics, my academic side was not doing so well," he continued.
His approach to the Games was far more relaxed than that of elite athletes today. In fact, if UK Athletics chief Charles van Commenee caught any of his athletes getting up to what Fosbury managed on the eve of the Games, then who knows what consequences would face them.
"I ran around with a couple of athletes at the time - one was a javelin thrower who was older than me," said Fosbury.
"He had a couple of young ladies bring his Volkswagen bus down to Mexico City.
"We had wheels. We went downtown to the pyramids - it was the day before the Olympic torch was coming to the stadium. We spent the night out there.
"I learnt to ask for forgiveness than ask for permission. I didn't tell my coach I was going to do these activities. He wasn't around full time, anyway."
He did not harm his chances and in the Olympic final Fosbury cleared an Olympic record 2.24m on his third attempt to land gold, with team-mate Ed Caruthers failing to clear the height.
Fosbury fought another battle later in life when he was diagnosed with stage one lymphoma in 2007. He overcame what was "one of the most difficult times" he had to deal with and is now clear of cancer.
It was perhaps that realisation of the fragility of life that has shaped Fosbury's philosophy.
"There is expectation for athletes to focus on their performances, but at same time we have to live our lives," added the 65-year-old, who now runs athletics camps in the United States.
"Be safe, but experience the Games. I think coming to London will be a tremendous experience for all these athletes. East London will provide the Olympians great exposure to people from all over the world."