London 2012: Majlinda Kelmendi's road to the Olympics
Last updated on .From the section World Olympic Dreams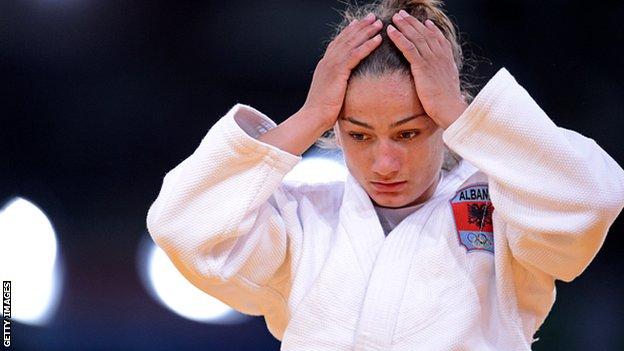 LATEST NEWS - 2011
Sun 29 Jul 12: Majlinda Kelmendi's Olympic dream has ended with defeat to an unfancied judo fighter from Mauritius. Representing Albania, the 21-year-old from Kosovo won her first fight before succumbing to Christianne Legentil in the round of 16.
Britain's Europe minister David Lidington reacted by saying, "Majlinda had fought hard for the right to compete under the Kosovo flag. It is a great pity that she was unable to walk behind the flag of her own country - the country for which she has such hope and passion.
"I firmly believe that Majlinda and other Kosovan athletes will walk out under the gold and blue of Kosovo at Rio in four years time."
Fri 25 May 12: Majlinda Kelmendi will definitely not compete as a Kosovan at London 2012 but she can participate for Albania.
Wed 23 May 12:
Like many nations that do not recognise Kosovo as an independent country, most sporting federations do not accept athletes from Kosovo.
Talking about the Kosovo Shooting Federation's exclusion from international competition, 25-year-old Urata Rama asks, "why can't I be treated like other sportsmen since I have the same results as other shooters?"
LATEST NEWS - 2011
16 Dec 11:Kosovo's favourite child Majlinda Kelmendi attended the Olympic judo test event at the ExCel Centre in London where she reiterated her desire to represent her homeland.
"I don't know why politics must come before everything," she said. "I'm just an athlete but I think we deserve to compete as Kosovo at the Olympics."
Sun 16 Oct 11: Kosovo's Majlinda Kelmendi has won her third gold medal in successive weeks.
Fighting under the flag of the International Judo Federation (IJF), Majlinda defeated Hongmei He from China to win the Grand Prix of Abu Dhabi.
Sun 09 Oct 11: At the World Cup in Minsk, Belarus, Majlinda took gold by seeing off the Italian Rosalba Forciniti.
Sun 02 Oct 11: Majlinda has won gold at the World Cup in Rome - her third medal of the season.
"I'm really happy," she said. "Gold is just gold and in this Olympic run the 100 points I collected today are really precious, I thank everybody for this wonderful day."
Thu 21 Jul 11: The president of Kosovo's Olympic Committee, Besim Hakan, is still confident that the IOC will recognise Kosovo as an independent state thus allowing Majlinda to compete in the Olympics under the Kosovan flag.
Majlinda's coach is similarly hopeful. Driton Kuka was also a promising judoka but his career was cut short by the Balkan conflict in which he fought for Kosovan independence.
"If she wins a medal, half of it would be for me! And it will be the biggest thing in my life," he said.
Sat 11 Jun 11: After winning bronze at the Lisbon World Cup, Majlinda Kelmendi is now ranked 15th in the world in the under 52kg category.
Sat 19 Feb 11: Majlinda won silver at the Dusseldorf Grand Prix, losing in the final to Japan's Yuka Nishida.
Sat 05 Feb 11: At the Paris Grand Slam, Majlinda finished fifth after losing to Ana Carrascosa of Spain.
Wed 02 Feb 11: Majlinda has told us she would be willing to represent any country for the chance to fight at the London Olympics. Her dream could become a reality as Majlinda has been offered the chance to compete for Azerbaijan.
Azerbaijan's Judo Federation has offered a monthly salary of 5,000 euro plus 2m euro if she wins a gold medal in London.
Sat 29 Jan 11: Majlinda won silver at the World Cup in Sofia, Bulgaria.
LATEST NEWS - 2010
Fri 22 Oct 10: Majlinda finished fifth at the World Junior Championships in Morocco - the competition she won in 2009.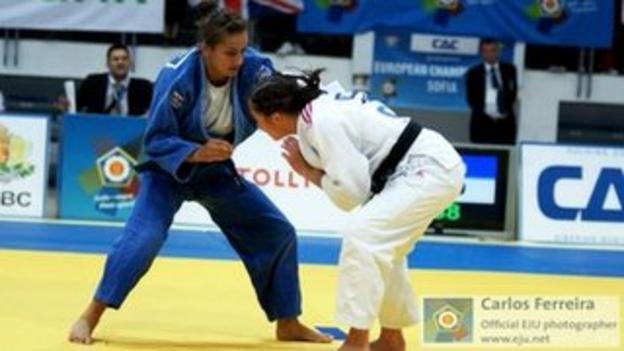 Fri 17 Sep 10: Majlinda has won gold at the European Junior Championships in Bulgaria. She defeated the Austrian Tina Zeltner in the final to defend the title she won the previous year.
Sun 12 Sep 10: Majlinda finished ninth in the under 52kg category at the World Judo Championships in Tokyo, where she was registered as a member of the International Judo Federation.
"I couldn't represent Kosovo, but I am glad I was able to compete," she said.
Talking about her first World Championships, Majlinda said, "Japanese people treat me with respect and kindness. I watch (Japanese judoka) Misato Nakamura because she competes in the same weight division as me."
She was upset to lose her third round match, saying, "I am not happy with my results. I want to reach the semi-finals next year".
Sat 14 Aug 10: Majlinda won gold in the 52kg class at the U20 European Cup Tour event in Berlin.