Warren Gatland will not favour Wales with Lions - Adam Jones
Last updated on .From the section Rugby Union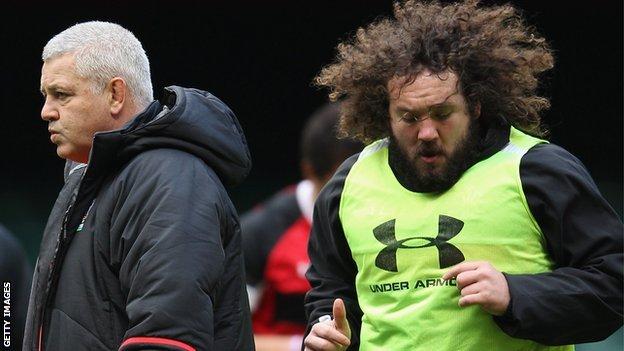 Wales prop Adam Jones has dismissed suggestions of possible conflict or bias should Warren Gatland coach the British and Irish Lions.
The Kiwi led Wales to the Six Nations Grand Slam but Jones says Welsh players will not be shown any favouritism.
"In fairness to Gats he would pick who he thinks would be the best players," said Jones, a 2009 Lions Test player.
"Knowing him, he's not going to be one of these guys who will pick you if you play for Wales or on past form.
"If you're on form and playing well for your club or country, you're going to go on tour regardless of which country you're from."
Another Kiwi and another Wales coach in situ led the Lions the last time a serving coach from one of the home unions was in charge.
Graham Henry was the man chosen to tour Australia in 2001, when the Lions lost the series 2-1.
The tour is now best remembered for a series of players' complaints and controversial columns and diaries, with England's Matt Dawson and Austin Healy most vocal in their criticism of Henry's management style.
Certain Wales players were also disgruntled when left out of the Test side.
The fall-out continued after the tour and Henry, once lauded as "the Great Redeemer", resigned seven months later after four defeats in six games with Wales.
"Some of the Welsh fellas, when they didn't make the Test side, they felt a little let down by Graham but that for me was ridiculous," said Lions manager in 2001, Donal Lenihan.
"I think, unfairly at the time, Graham paid a bit of a price for that when he went back to Wales."
Jones, a leading contender to make the Lions Test side in 2013, is confident no such problems will beset Gatland's party.
"If I didn't get picked, I'd support whoever did get picked, but I've got to get picked for the tour first," said the 31-year-old, who made two Test appearances when the Lions lost 2-1 to South Africa in 2009.
"You've got to accept it and knuckle down and see if you can get the Test spot back."
BBC Wales Sport understands Gatland has been offered the role as Lions coach, having already been given the Welsh Rugby Union's approval to be released from his contract.
The 48-year-old transformed Wales from 2007 World Cup flops to 2008 Grand Slam champions within months of taking the Welsh job.
He also guided Wales to an impressive fourth place at the 2011 Rugby World Cup before securing a second Six Nations clean sweep in 2012 - Wales' third Grand Slam in eight years.
"Warren would be the universal choice from all the four countries," added Lenihan. "He is the best man for the job.
"Certainly speaking as an Irishman, I wouldn't be surprised whatsoever to see him get the job. His CV stands for itself, along with the fact he was on the Lions tour in 2009 as an assistant to Ian McGeechan."
"I'm sure he would have learned from that and had a good feel for what the Lions are about."