London 2012: Pakistan's school of future stars
By Aleem Maqbool
BBC News, Punjab
Last updated on .From the section World Olympic Dreams
We find 14-year-old Abu Bakr dribbling a ball with a hockey stick everywhere he goes.
"One Olympian, Nadeem, lived on my street," he tells us. "Watching him inspired me to play, now I think of hockey the first thing in the morning and I think about it when I lay in bed at night."
The little town of Gojra in central Punjab is far from affluent. It once hit the headlines in recent years, but only for the religious tensions that boiled over there.
Its biggest secondary school is shabby, and its pupils often have lessons sitting on the ground outside because there is not enough room inside the classrooms.
But if, like Abu Bakr, they have ambitions of one day representing Pakistan at the Olympics, the pupils could not be growing up in a better town and they are certainly going to the right school.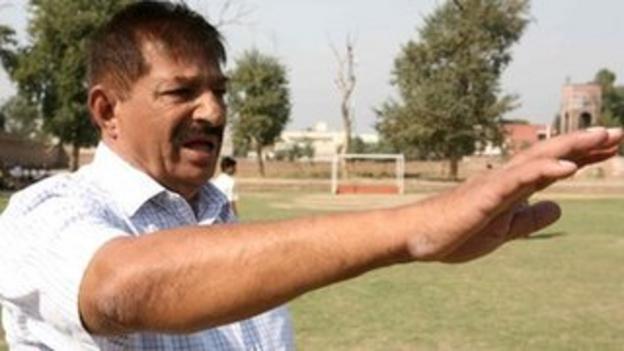 MC High School has a remarkable record when it comes to Pakistan's most important Olympic sport, hockey.
Over the last 40 years, it has produced no less than 57 international hockey players, including the stars Tahir Zaman, Rashid-ul-Hassan and Shahbaz Jr.
Former pupils have won World Cups, Champions Trophies and Olympic gold medals.
When the Pakistan hockey squad travels to London, it is likely to include four players from this one school.
"We were nothing before we went to MC High School," says Pakistan defender, Muhammad Irfan. "Now I am playing for my country and it is all because of the start that I got. As pupils we felt everything was possible when it came to playing hockey."
But MC High is not a sporting academy, just a regular government-run school. So why the incredible record?
And why, on a bumpy pitch behind the school during break time, are all the pupils playing hockey instead of cricket like most Pakistani boys?
A lot of it has to do with Aslam Rodha, now nearly 70-years-old.
He was a pupil at MC High in the 1950s and 1960s, when Gojra was little more than an agricultural village.
"I was a good athlete and thought I would give hockey a try," says Mr Rodha. "Our team was terrible and we were always losing, but me and a few others turned things around and we started winning."
It was not long before Aslam Rodha got noticed and was picked to represent Pakistan. While he was still playing, he decided it was time for a sporting revolution in Gojra.
"There was no industry here, Gojra was not famous for anything," he says. "I made the decision that I wanted to produce world class hockey players from here. I started training them, and they started being selected, and it carried on to this day."
Outside the headmaster's office is a tribute to Aslam Rodha's tremendous success. There are boards showing the names of all the former pupils who have gone on to play hockey for their country. There are now three panels full of names and they will soon need a fourth.
After school, boys who are interested come to hockey practice.
"When we sit at our desks and think of the former players that must have sat there before, it feels so good," says 13-year-old Muhammad Naqqash, taking a break from cracking balls past a goalkeeper.
"I want to play hockey forever, and with the help of my school I'll one day play for Pakistan."
And 16-year-old Mubashir Ali gives us an insight into how hockey and MC High's focus on it has given pupils here a route out of poverty and the chance to see the world.
"We will get our respect through working hard and playing hockey," he says. "It is my dream to make my parents and teachers proud and make a name for my school and my country on the hockey field."
It is through the support of donations and help from former pupils that coach Aslam Rodha has been able to sustain his vision.
"Ninety percent of the pupils here come from very poor backgrounds," Mr Rodha says. "They don't even get proper nutrition at home."
"But thanks to the donations, if a poor boy lives too far away to come to train we buy him a bike. We buy poor children milk and food and we buy them their hockey sticks and balls."
"People give us shorts and shirts and trainers that we can distribute, that's why you see them all wearing different kit," he says.
That some of these pupils will go on to compete against the best players from Europe, Australia and the world may seem like achievement enough, but do not underestimate the hunger for Olympic medals inside the boys from MC High.