London 2012: Pakistan hockey sack coach Van den Heuvel
Last updated on .From the section World Olympic Dreams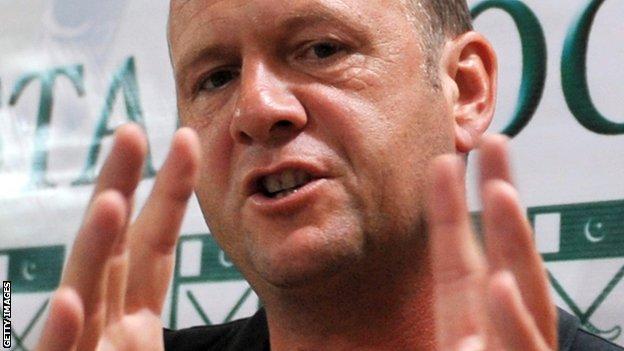 Pakistan has sacked its hockey coach Michel van den Heuvel just over four months before the London Olympics.
"We had no option but to release him because he breached clauses of his contract with us," claimed Qasim Zia, president of the Pakistan Hockey Federation (PHF).
The decision comes after Van den Heuvel failed to return from the Netherlands to fulfil his coaching role in Pakistan.
"Van den Heuvel has refused to attend the training camp of the probables for the Olympics under way in Islamabad," said Zia.
He was also accused of signing a contract with a Dutch club, an act that the executive committee meeting of the PHF deemed a further breach of contract.
The Dutch coach, who guided Pakistan to their first major piece of silverware since 1994 when they won the 2010 Asian Games, will be replaced by former Olympians Khawaja Junaid and Akhtar Rasool.
"The decision to release the foreign coach was a difficult one," said Zia. "But we are hopeful the new management will deliver in the Olympics."
Van den Heuvel has expressed his disappointment, telling the Dawn newspaper: "What I know is that I had a contract with the PHF until the Olympics and I expected them to respect it."
The incident crowns a turbulent few years for a team that has a rich history of success at the Olympics.
Having won gold on three occasions, the team has fallen on hard times in recent years - they last won gold at the Olympics in 1984. Prior to their Asian Games success in 2010, the team's last significant prizes were the World Cup and Champions Trophy back in 1994.
In March 2010, the team finished last at the World Cup - their worst-ever performance. The team's coach, manager and selection committee were promptly sacked. Hours later the entire squad announced their retirement from international competition.
Michel van den Heuvel was brought in shortly afterwards and led the 'Greenshirts' to gold at the 2010 Asian Games in Guangzhou, China. The win qualified Pakistan for the Olympic Games in London.
In the run-up to London 2012, the PHF have courted further controversy by threatening several members of the national team with disciplinary action after they travelled to India to participate in an unsanctioned tournament, the World Series Hockey (WSH).
Discussing the possibility of punishing these players, PHF president Zia said: "We want to give an opportunity to the players who have gone for the World Series Hockey to give their point of view before the disciplinary committee, before any action is decided against them."