London 2012: Kenyan runner siblings pursue 2012 golds
By Kevin Mwachiro
BBC News, Nairobi
Last updated on .From the section World Olympic Dreams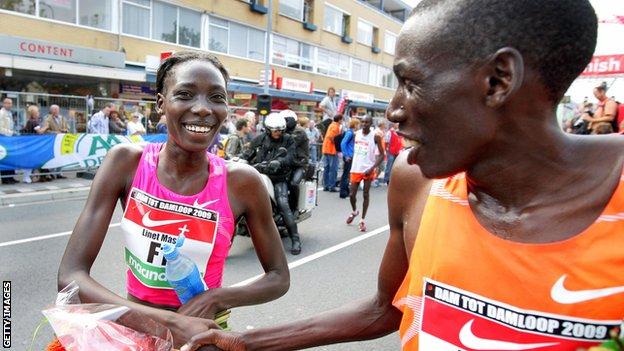 I am rarely starstruck, so I was rather surprised that I seemed to be in absolute awe when I met the Masai siblings, Linet and Moses.
Let me tell you about Linet first. We had spoken on the phone a number of times and the 10,000m runner came across as very soft-spoken and gave me the impression that she was not comfortable having conversations over the phone.
Meeting her in person, her genteel and shy personality is as obvious as her lithe structure. Added to that, she has striking facial features and a golden smile.
Moses Masai, the eldest of the siblings, is as humble as his sister. I notice the 5,000m and 10,000 runner holds a strong influence over the team that trains with him.
Our initial meeting with Moses takes place in Iten. It is 6am but the town is already busy with runners preparing for the first training session of the day.
There are runners who compete at different levels - locally and internationally - but there is sense of camaraderie that prevails over this merry bunch of athletes.
Moses comes across as being slightly older than his 25 years. It is only later that I realise he is the first-born son of a traditional Kenyan family and therefore shoulders more responsibilities than most.
Linet is the more successful of the two siblings - she won gold and he bronze at the 2009 World Athletics Championships. Nevertheless, witnessing Moses and Linet interacting, it is clear that Moses is the more confident and more outspoken of the two.
Linet holds her brother in high esteem and Moses beams with pride when discussing his younger sister's achievements.
Interviewing him is easy and as a running enthusiast, I find that we have much to talk about. I want tips from him on how to improve my running time and technique.
I want to hear all about how it felt to be at the World Championships, inwardly wishing that I had been a bit more disciplined and determined with my own running when I was younger.
Moses's words ring true when he mentions that the secret behind most Kenyan runners is their hunger to succeed and to improve their economic lot.
To paraphrase his words: "Rich kids can't run, because they have alternatives and training to be a runner is hard".
Running is hard. Moses and many other runners like him train relentlessly.
Each weekday they have three training sessions, with the first one taking place way before sunrise and the culmination of the training week is a 32km run on Saturday.
Sunday is the only rest day that they afford themselves.
For Moses and Linet, their hard work has paid off. They are reaping the fruits of their labour and with age still on their side, we will be hearing of them way beyond 2012.