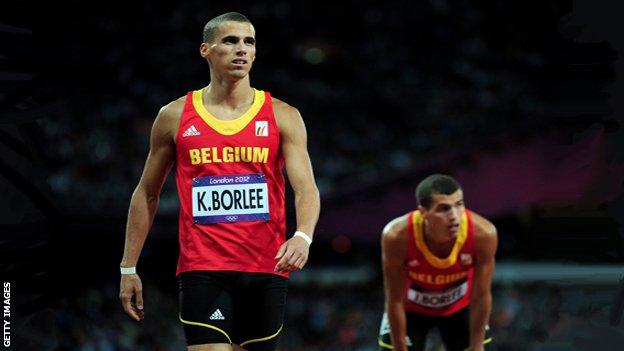 LATEST NEWS - 2012
Fri 10 Aug 12: Belgium's 4x400m team featuring the Borlée twins came sixth at the London Olympics.
"I had to go round the outside in the second bend because a Brit bothered me which lost me time," said Jonathan.
"I feel completely empty now, but that is normal after the individual 400m and then the team event. We knew this heavy program was waiting for us at a tournament like the Olympics."
Mon 06 Aug 12: Kevin and Jonathan Borlée finished fifth and sixth respectively in the Olympic final of the 400m at London 2012.
"It was unfortunate to be drawn in the outside lane," said European 400m champion Kevin after crossing the line in 44.81 seconds.
"I was too slow in the first half of the race and my position after 300 metres just was not good enough. I finished strongly but it was too late by then. This really sucks, I feel so stupid that I went away so slowly," he added.
"We should nevertheless remember there were only two Europeans in the finals: two Belgians and twins at that."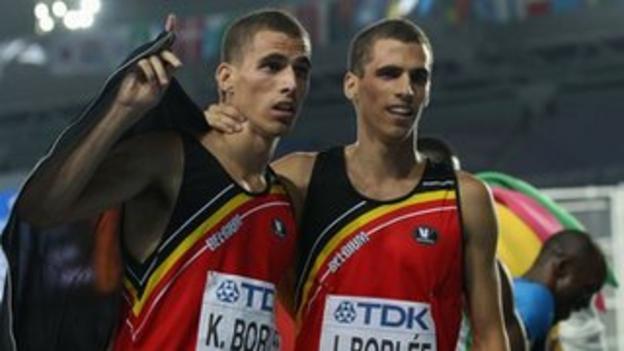 Sun 01 Jul 12: Kevin and Jonathan Borlée inspired Belgium to 4x400m relay gold at the European Championships.
"This race was preparation for the Olympics," said Kevin Borlée. "It's great to finish the games with a gold medal. The secret to our family of fast runners is a good team spirit."
Mon 18 Jun 12: Belgian 400m sprinter Kevin Borlée has smashed his own personal best by 0.18 seconds and lowered his brother Jonathan's national record by 0.15 secs.
He ran 44.56 secs in his heat at the Belgian Championships before winning the final in 44.63 secs.
"That I beat the national record of my brother is not important because he is perfectly capable of taking it away from me again," said Kevin.
LATEST NEWS - 2011
Fri 21 Oct 11:As the Borlées prepare to trek across an Icelandic glacier, Kevin has today learnt he will receive the Trofee voor Sportverdienste.
He will accept the accolade, which is Belgium's equivalent of the BBC Sports Personality of the Year award, later this year from a member of the royal family in Brussels. Sister Olivia won the same award in 2007 following her 4x100m bronze medal at the World Championships.
Tue 30 Aug 11: Kevin Borlée has won 400m bronze at the World Championships in Daegu, South Korea.
Kevin and Jonathan were the first pair of identical twins to make it to a World Championship final and Kevin proved to be the fastest on the day, finishing third with a time of 44.90 seconds. Jonathan came fifth in 45.07 secs.
"I've always said that anything was possible in the final," said Kevin. "In my mind, I guessed James and Merritt were going to be the stronger, but in my heart I knew that the race for the other top place was open. This is fantastic.
"Many athletes blow themselves up in the finals, but I know I can organize my race well. In the last few metres, I gave it everything."
Fri 08 Jul 11: Kevin Borlée ran a 400m PB (Personal Best) of 44.74 secs in Madrid despite suffering from stomach pains.
"I've been waiting for this for a long time. I cannot explain it, I don't know what happened", Kevin said.
"I guess I am reaping the reward for my hard work every day, but I really wasn't feeling well. On Wednesday I had to get the doctor in and the night before the race the aches became so powerful that I couldn't sleep properly".
"It was clear that, given my condition, there was not the least bit of pressure on me to win. Maybe that helped me in my race".
Sun 05 Jun 11: Jonathan Borlée won the 200m at the IAAF World Challenge in Rabat, Morocco. His time of 20.42 secs was the second fastest in Belgian history.
Sun 06 Mar 11: Jonathan and Kevin Borlée took bronze in the 4x400m relay at the European Indoor Championships in Paris. Belgium finished behind France and Great Britain in a time of 3 mins 6.57 secs.
Sun 13 Feb 11: Kevin Borlée has set a new Belgian indoor 600m record. His time of 1 min 15.65 secs was the third-fastest performance of all time indoors and was enough to beat the record set by Tony Ernst 22 years ago.
Wed 09 Feb 11:Jonathan Borlée has set a new Belgian indoor 300m record. Jonathan finished third in 32.79 secs at the Pas de Calais meeting, whilst Kevin trailed in fourth in 33.03 secs.
Thu 03 Feb 11:Kevin Borlée has won a Golden Spike at an awards ceremony celebrating the successes of Belgium's best athletes.
LATEST NEWS - 2010
Fri 27 Aug 10: In the final Diamond League meeting of the season in Brussels, Jonathan finished second in the 400m in 45.27 secs while Kevin came fourth in 45.53 secs.
Olivia also ran in front of the home crowd, coming in eighth in the 200m with a time of 23.61 secs.
Fri 30 Jul 10:It was Kevin, not Jonathan, who won the 400m at the European Championships in Barcelona.
Kevin took the gold medal, finishing in 45.08 secs while Jonathan trailed in seventh place.
"Jo deserved to win this, more than me, he's been dominating the whole season," said Kevin. "In the semi-finals here he was faster than anyone else, including me. He is the fastest man in Europe. I am a bit sad for him."
Mon 26 Jul 10: World Olympic Dreams caught up with the