Olga Kharlan fights her way to a new life
By Nicola Pearson
BBC News, Mykolaiv
Last updated on .From the section World Olympic Dreams
Olga Kharlan opens the door to her parents' one-bedroom flat in a big fluffy pair of animal slippers, somewhat undermining her status as an Olympic champion and - although it makes her feel uncomfortable - a pin-up.
The flat is bursting with Olga's trophies and medals - they stand proud and shiny in every lounge cabinet and on several shelves in the bedroom.
Among them is the gold medal she won at the Beijing Olympics, aged just 17 years old, as part of Ukraine's three-woman sabre fencing team.
Although her innocence still comes across, it is clear that behind the affable exterior is an incredibly driven woman. In a town where the average monthly wage is just £250, Olga has earned enough money from the sport of fencing to build herself a house.
"I have got a lot for my age," she tells me. "My grandfather says I already have what they didn't manage to get in their whole lifetime, but I will keep striving for more".
As a child, her parents paid for dance lessons, but they were too expensive to continue. To replace them, her godfather introduced her to fencing - lessons were free.
Ironically, it is her family's lack of money which has propelled her towards success, and with it, wealth - Olga has literally fought her way to a new life.
Olga's family home is a one bedroom flat in Mykolaiv, a ship building town in southern Ukraine. It is a modest apartment in a run-down block. When Olga visits, her parents sleep on the sofa in the lounge, while she takes the solitary bedroom.
It has taken Olga ten years to amass an overwhelming collection of cups and medals but when it is suggested that she must be winning awards all the time, she plays down her achievements.
"Not all the time, but I guess very often," she says.
In the kitchen, the fridge also tells the story of success. It is covered in magnets from across the world; all the places that Olga has visited for fencing competitions.
"New York, Paris, Las Vegas - I love Las Vegas, Madrid, I like, Beijing, Roma, Vietnam," Olga says.
It is in contrast to the family's neighbours - few can afford to leave the country for foreign trips.
Her new home is, without doubt, the house that Beijing built - financed by her winnings since the last Olympic Games. In an industrial town cluttered with high rise flats, the two storey red brick house stands out - it even has its own gym.
Despite her success, Olga says she isn't often recognised around her home town, but when she is, she quite likes the attention.
"I didn't expect so many people to watch our final. I was very surprised to learn that people turned over from a football match to it. When I got back to Ukraine I saw so much written about us on the internet - it was nice".
Her beauty hasn't gone unnoticed - and magazines are keen to feature her, but she says she isn't keen on doing glossy photo shoots.
Olga only sees her parents every few weeks - the majority of her time is spent training at the Olympic base in Kiev, a six hour drive from her family home.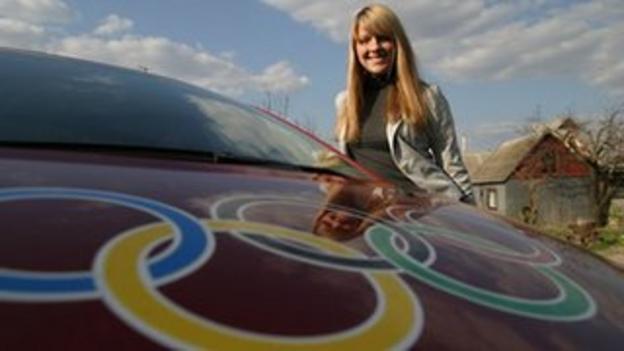 The journey has improved since the Ukrainian Fencing Association bought her a new hatchback with private number plates and the Olympic rings plastered across the bodywork. It was a gift to reward her success at the 2008 Olympics, where her three-woman team beat their Chinese hosts in the final.
With London's 2012 Olympics just around the corner, Olga's punishing training schedule requires her to practise for eight hours a day.
She is not just honing her fencing skills, she is also working on her general fitness by running and playing football. She is happy to put in the work because she is desperate to match her previous success.
When I mention she probably has a good chance of winning gold again, she shakes her head, telling me "that of course is the aim", but that "there are a lot of great athletes taking part in London's Games".
She fears there may not be a lot between them, so she is pushing herself to be the best she can. Her only disappointment is that her parents will not be able to get to London - the air fare and cost of a hotel puts the trip out of their reach.
"But they'll be watching me on television" she tells me. "During the last Olympics the whole country watched - it was amazing".
Thankfully, Olga says she is happy in Kiev - she has made friends, and her boyfriend of two years is also on the fencing team. Her coaches are not happy that she is in a long term relationship but she claims it does not distract her.
Although Olga is young, and hopes to compete in many more Olympic Games, she is en garde for life after sport. She recently accepted a role on her local council and she has been attending college in her home town, so she can become a coach, if she wants, when her fencing career is over.
When that happens, she will return to Mykolaiv, her honorary seat on the council, and of course, her big house.