Kurt Angle on his hardest task - making an Olympic return in 2012
Last updated on .From the section Wrestling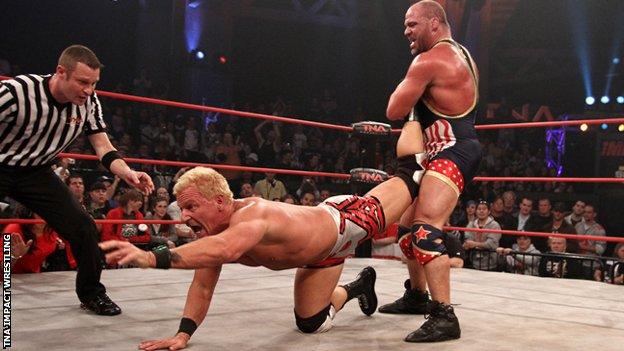 Mention pro wrestling and the reaction of many is to say "ahh, but it's not real" in a tone more suited to passing on great wisdom to one's children.
The tone suggests it is an activity without merit. The implication being that, because the results are predetermined, it bears no comparison with, say football, because, although that is just 22 people trying to kick a ball into a net, at least they are doing it for real.
But there is another side to wrestling, the amateur version which, while unlikely to sell out Madison Square Garden any time soon can at least point to being 100% genuine.
In truth, the two do not make particularly easy bedfellows which is no doubt why almost nobody has made the transition from amateur to pro and nobody has done it the other way round.
Until now, that is. Kurt Angle won Olympic gold in 1996 before going on to enjoy huge success with the World Wrestling Federation (WWF) and then TNA Impact wrestling. Now he is going back, at least temporarily, trying to make the US team for the 2012 Olympics.
Given the fantastical storylines of pro wrestling it is tempting to think that his head has been turned by extended exposure to sports entertainment.
Should he make the team he will be, at 43, six years older than anyone else to have made the US squad.
It is 16 years since he last had an amateur match, and going from that lengthy hiatus to Olympian is surely a pipe dream. Why attempt it and why now?
"I had to give it a lot of thought, it didn't just come out of my head and say I'm going to try for Olympics," he says.
"What are my chances of making the team? Slim to none, I'm not going to lie but, if I can look you in the eye and say I have a chance that's more than enough. That's worth training five hours a day to get ready for the trials and for the biggest event of all, the Olympics."
For that to become a reality, Angle will have to beat a world class field in April's trials, including Jake Varner, the 2011 world championship bronze medallist and clear favourite for the slot.
Angle believes Varner will be his last match in a dream finale, but does danger lurk in the young guns keen to make a name for themselves? He sees it differently - the pressure is on them.
"I don't think it's fair," he starts before reconsidering. "I can't say it's not fair but if you pull the Kurt Angle card you've got a former world champion, a former Olympic champion so it's not exactly the best pick.
"It's a tough thing they'll have to accept thinking 'gosh, why do I have to wrestle one of the greatest wrestlers in US history in the first round?'"
Still though the question remains, could failure damage his Olympic legacy or his standing as a headline act with TNA? Walking out as pro wrestling's only Olympic champion is one thing - it led to huge success in an industry he admits he thought was a "bit of a joke" before growing to love and respect it. Coming out as that guy who lost in the first round of the trials is quite another.
"The only negative publicity I could get is if I didn't show for the trials. I don't want people to think Kurt Angle is a quitter," he responds, indirectly responding to critics who have suggested the bid is just a PR stunt.
"I've been chastised for going into mixed martial arts and backing out. But the reason I backed out was the terms - they wanted me ready to fight in four weeks but you've got to be out of your mind.
"So I decided to go back to my roots, back to wrestling. Let me try out for the Olympics again, let me soak it in let me enjoy it and get back to the sport I love. I thought about my Olympic experience and I can tell you I don't remember much.
"This time it's about the experience. If I make the team, that's the icing on the cake but you can never, ever take that Olympic gold from me. I've already got one - I just want a second one."
While Kurt admits he is odds against to make the team, what is certain is that to have any chance he will have to change a style that was aggressive even before he made the switch into a type of wrestling in which TLC stands for tables, ladders and chairs.
"I've had a rugged 10 years. I've been through painkiller abuse to broken necks to wrestling 300 days a year, beating my body down," he admits.
"I've had to change. I've pulled back on taking chances. I look back and I almost lost a couple of matches because of sheer stupidity and being too aggressive. I won't be taking that approach now, it's going to be like a chess match."
In his favour are new rules with shorter, lower-scoring bouts and what would border on home support from pro wrestling fans.
Support closer to home has been harder to find. Kurt has made a fortune from wrestling but you get the feeling some close to him wish it was more of a job than a vocation. He proved everything in the amateur game, then proved everything in the pros, why now go back and try to prove it all once more?
Seemingly others are asking that question.
"I've had my ex-wife Karen tell me you're not fit for it," he says.
"I've had family members say they're concerned about my neck, my mother's always worried and even some of my brothers aren't taking me seriously.
"Last time they were with me everywhere I went, now they're like 'nah he's not really doing it'. I've been doing it by the grace of God as I don't have near the support I had back then."
The apparent lack of backing will be out of concern; Angle won gold in 1996 shortly after breaking his neck but just making the Games this time is far more of a challenge.
Angle hints that by pro wrestling standards he is in top shape but wrestling is one sport where increased fitness and professionalism don't necessarily go hand in hand.
"You've got to stay in pretty good shape to be a pro wrestler and all the TNA wrestlers get a bit nervous when I wrestle them because they're afraid I'll tire them out but the Olympics is a whole different level," he says.
"I'm not even at peak condition. It's kind of like a work of art, you're drawing this painting and you want to see what it will look like at the end. We're going to find out in a couple of months."