London 2012: From wartime to the big time in 1948
By Sam Sheringham
BBC Sport
Last updated on .From the section Olympics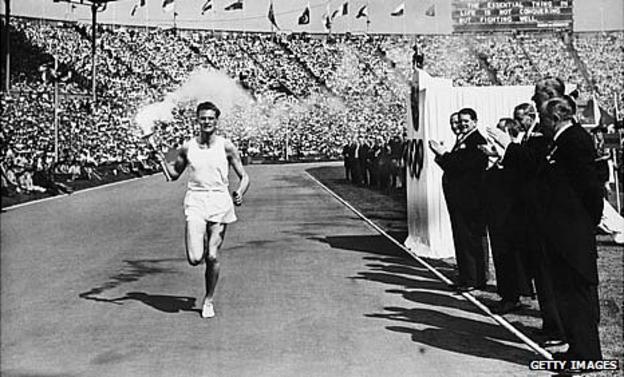 An Olympics coming to London in a time of austerity. Sound familiar?
In fact, the backdrop of economic hardship is just about the only similarity between London 2012 and the last time sport's biggest jamboree came to the UK capital.
In 1948, London was still recovering from World War II. Rationing remained in force, the athletes were put up in military barracks, schools and hostels, while double-decker buses were deployed to ferry them to events.
Despite the frugal conditions, a then record 59 nations were represented by more than 4,000 athletes in what turned out to be a triumphant event, a celebration of life after the horrors of war.
Three members of Great Britain's 1948 team, who have been given free tickets to London 2012 by the British Olympic Association, share their memories of the Games with BBC Sport as they savour the prospect of London becoming the centre of the sporting world once again.
AUDREY BEEVER - GYMNASTICS
Audrey Beever had never been to London when she became the youngest member of the British team at the age of 15.
Her dreams were almost shattered by a torn ligament in her hand during training, but she recovered to take her place at Wembley stadium as 85,000 spectators braved sweltering heat to watch King George VI declare the Games open.
"The opening ceremony was absolutely wonderful but it was 100 degrees that day and I think they had been burning some weeds down in the grasslands around the stadium because it was quite dirty," recalls Beever, 78.
"Everywhere we walked we got covered in black dust and we thought, 'Oh my goodness, what are we going to look like?' There was nowhere to shelter and they didn't give us any water either."
Housed along with the Australian squad in Eccleston Square, Beever has fond recollections of the camaraderie between the teams, which overcame discrepancies in the food supplies.
"We hadn't seen an orange or a banana for years so we were quite jealous when we saw them unpack their goodies," she said. "They had fruit, tins of corned beef and all sorts.
"We used to have quite a good time in between events, though. In the centre of Eccleston Square there was a park where we could go for practices and sunbathing routines.
"The training wasn't nearly as strict as it is now. When you look at what the gymnasts are doing now on the beam, we couldn't even do those things on the floor."
After finishing ninth in the team gymnastics competition, Beever continued to compete for four more years before becoming a gymnastics teacher and aerobics coach.
Not surprisingly, the summer of 1948 will be forever imprinted in her mind.
"They have international competitions all the time now but not back then," she says. "The Olympics were the biggest experience of your life, the be-all and end-all."
MICHAEL LAPAGE - ROWING
While Beever was competing on gymnastics equipment largely borrowed from abroad at Empress Hall in Earls Court, Michael Lapage was having to supply most of his own kit for the rowing event in Henley-upon-Thames.
Lapage, now 88, had served his country as a Fleet Air Arm pilot in the Pacific during World War II before attending Cambridge University, where he was a member of the 1948 Boat Race-winning team.
The Cambridge crew formed the backbone of the Great Britain men's eight for the Olympics and won a silver medal after finishing second to a powerful and well-fed American team.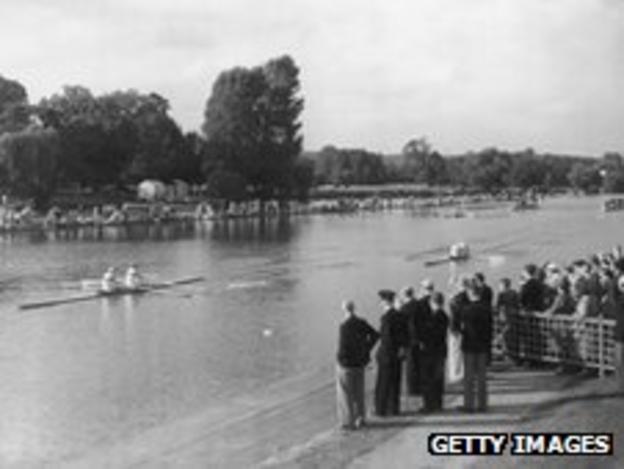 "Rationing was an issue," he says. "We got a little bit extra but we didn't get enough red meat, which meant not enough muscle power and staying power.
"The American crew, on the other hand, imported their red meat from California, which helped give them that little bit more staying power. We led from the start but couldn't keep it up."
Lapage recalls a fantastic atmosphere at Henley with thousands of spectators lining the banks of the Thames and some lively champagne and sherry-fuelled celebrations at a post-race dinner with the other crews.
But he is adamant that the 1948 Olympics bear no comparison to the global circus that will land in London this summer.
"Prior to competing, we had hardly heard of the Olympics," he says. "It didn't have nearly the same reach as it does today. The Games were arranged in a matter of months and at relatively small cost.
"Winning a silver medal was not in the least a life-changing experience for me. I resumed my studies at Cambridge then took up a teaching post in a school before going to Kenya as a missionary."
Although life has taken him away from sporting arenas, Lapage has retained an interest in rowing and is planning to attend the 2012 competition with his grandson Patrick, himself a rower of growing repute.
"Patrick stroked the Harvard Men's eight this year in the Head of the Charles race and I very much hope he will be involved in the 2016 Olympics," says Lapage. "He has the background for it, after all."
SIR PETER HEATLY - DIVING
Self-taught Scottish diver Peter Heatly was 24 when he was called up to the Great Britain team for his first major international event.
He recalls the mood surrounding the 1948 Games as one of excitement and wonder.
"Everyone was fascinated with the fact they were being held in London," he says. "It felt like a new start after the war. The world had taken a better turn.
"Everything is so sophisticated nowadays but the great thing in 1948 was just to have been there.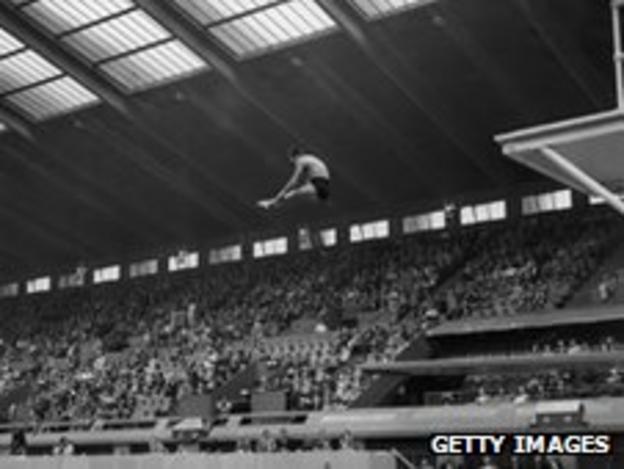 "I can remember the Wembley pool very well and the great capacity audiences.
"I suppose I was a bit of a celebrity but I never thought of it that way. I was too busy trying to do well and I was so absorbed by meeting so many people from all over the world. The whole thing was a great excitement."
Heatly, who is now 87, came fifth in the highboard diving in 1948 and went on to win gold medals for Scotland in the 1950, 1954 and 1958 Commonwealth Games.
He was chairman of the Commonwealth Games Federation from 1982 to 1990, was knighted in 1990 for his services to sport and was inducted into the Scottish Sports Hall of Fame in 2002.
Despite his status, Heatly is well aware that when he turns up to watch the men's diving at London 2012, someone else will be hogging the limelight.
"I've met Tom Daley before and he is a delightful young fellow," says Heatly. "He has done very well so far and has a great chance."