Paula Radcliffe critical of London 2012 ceremony budget boost
By Matt Slater
BBC sports news reporter
Last updated on .From the section Olympics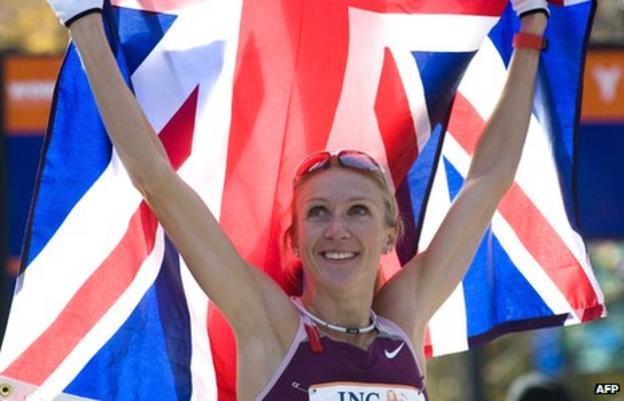 Paula Radcliffe has called the government's decision to double the budget for London 2012's opening and closing ceremonies "frivolous".
The government announced on Monday that an extra £41m of public money is being spent on the ceremonies.
But the world marathon record holder, officially selected for her fifth Games on Tuesday, believes the money should have been spent on developing talent.
"We're in a recession - to throw money at this is a bit frivolous," she said.
"Staging the Olympics costs quite a bit, so it would probably be better if we spent the money in ways that will give more back in the long term."
The decision to increase the amount spent on the lavish spectacles that traditionally bookend the Olympics was taken after Prime Minister David Cameron saw the original plans.
It is understood he felt the country should make more of its opportunity to showcase the best of Britain to a massive global TV audience.
Hugh Robertson, minister for sport and the Olympics, told the BBC that the money was "an investment to drive the maximum benefit for the economy and tourism".
This, however, marked a U-turn from earlier statements that London 2012 would not even try to emulate the remarkable shows put on by the Chinese at the 2008 Beijing Games.
It also runs counter to what many observers had thought was an attempt by the organisers of the London Olympics, backed by the International Olympic Committee, to reverse the recent trend of one-upmanship with these lavish ribbon-cutting exercises.
Radcliffe, for her part, has not been to any of the four opening ceremonies she could have attended and says she will not be going to London's.
"I think the way the Games are organised, and the atmosphere of the whole thing, is what people remember, as opposed to the opening ceremony," she said.
The three-time London Marathon winner, who will be hoping for an Olympic medal at the fifth attempt in 2012, was also strongly critical of a recent article in the Daily Mail that suggested girls avoid sport because it gives them "sinewy arms" and they find it boring.
"It was nonsense basically," said Radcliffe. "I'm really passionate about bringing as many youngsters as possible into sport, so the article was damaging.
"It is not about the success sport can bring, it's about the self-confidence it can give kids. It's about health, it's about getting them to work better in teams and in school. There are so many reasons.
"It was a huge disservice to women in sport to say that only men should be involved.
"It was a crazy article to write when you've got kids out there starving themselves to look like models when you've got healthy role models in sport."