Carolina Kluft may continue in athletics beyond London 2012
Last updated on .From the section Olympics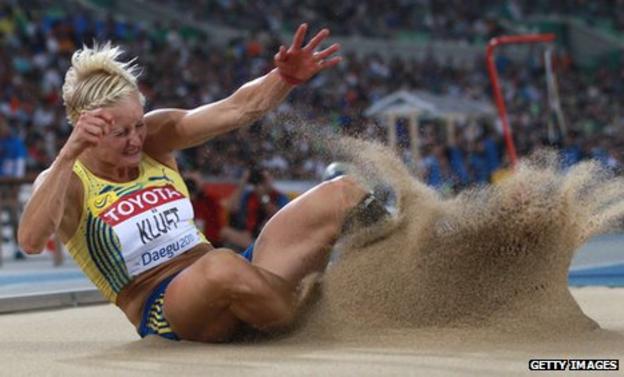 Former Olympic heptathlon champion Carolina Kluft says she may change her mind about her plans to retire in 2012.
The 28-year-old Swede, who now competes in the long jump and triple jump, is considering staying in athletics beyond next year's London Olympics.
"I know in my heart that this will most likely be my final year," she said. "But nothing is written in stone.
"I know I can change my mind as much as I want. I don't have to follow through on what I have said previously."
Kluft dominated the heptathlon from 2002 to 2007, winning Olympic gold in 2004 and three world titles, but she has been less successful since switching to the long jump.
However, her competitive spirit remains and she has even banned sweet treats as she fine-tunes her preparations for next summer's Games.
"Physically I feel good after fighting my way back from injury," she said. "It's the technical aspects, the timing and the feel, that aren't 100% yet.
"I've had a candy ban in place since New Year's Eve until the Olympics. It's nothing to do with weight or anything, it's just a fixed idea, an extra mental thing."
Kluft is already planning for life away from sport, and wants to help children through politics.
"I'm not really interested in party politics," she said. "It's very tough, very compartmentalised and I have difficulty placing myself in there.
"I prefer grassroots politics, working with children and young people, working more closely with people than in the chamber.
"Maybe I can work as a bridge between the two."