Joe Calzaghe backs Andrew Selby's 2012 Olympic dream
Last updated on .From the section Olympics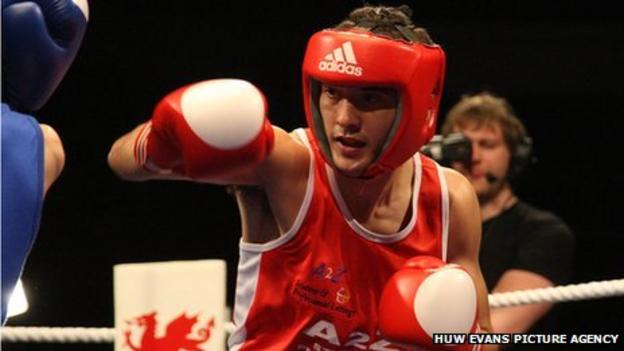 Joe Calzaghe has urged Andrew Selby to seize his Olympics shot in his best-of-three 'box-off' with rival Khalid Yafai for a 2012 London Games spot.
Both European champion Selby and Yafai of England earned the Olympic standard by reaching the quarter-finals.
"It's a great opportunity for Andrew," said Welsh boxing great Calzaghe.
The amateur fighters will showdown at the Great Britain Championships in Bethnal Green's York Hall in London on 11 and 12 November.
A third meeting, if required, will take place at the Olympic test event at the ExCel Centre at the end of November.
Selby has enjoyed a superb year, winning the European Championships before being pipped by one point in the final of the World Championships in Azerbaijan last month.
If the 22-year-old Barry boxer had won that final he would have been an automatic choice for the Olympics, but because Yafai also made it as far as the quarter-finals, a 'box-off' was ordered.
Selby is favourite to beat Birmingham's Yafai, who represented Team GB at the 2008 Olympics in Beijing but lost in the second round to Cuba's Andris Laffita.
Selby was frustrated to have been ordered to compete in the 'box-off' as he said: "I've won European gold this year and a silver at the worlds and he hasn't won any major medals."
But Calzaghe has tried to lift his fellow countryman by reminding Selby the prestige of appearing at an Olympic Games.
The 39-year-old was a two-weight world champion in a distinguished unbeaten 46-fight career and is regarded as one of Britain's greatest boxers.
But he said: "I didn't go to the Olympics - and that is one of main regrets.
"I was ABA champion and wasn't selected for some reason. It was the Barcelona Olympics in 1992 where Robin Reid won a bronze medal.
"I won three successive ABA titles without being beaten.
"So this a great opportunity for Andrew. I would have loved the chance."
And Calzaghe sympathises with Selby's frustration at having to compete in the 'box-off.'
"Winning a silver medal at the World Championship is an amazing achievement and I'm surprised why he has to box a box-off," said Calzaghe.
"He'll have to dig in but I'm pretty confident that he can win the box-off. I will be supporting he is a good up-and-coming fighter."