London 2012: Premier League managers cautious over Olympic football
Last updated on .From the section Olympics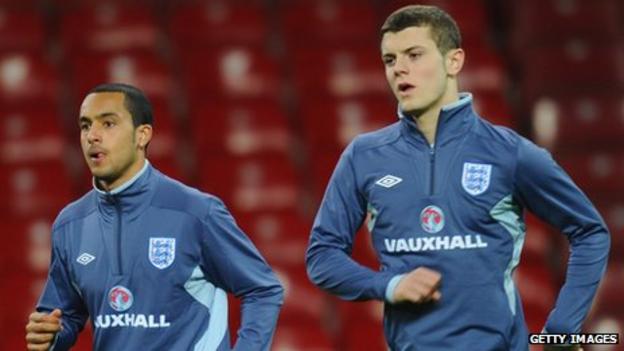 Premier League managers have raised concerns over Great Britain's quest for Olympic football gold next summer.
Arsene Wenger insists the Olympic event is "not a real competition" and players should not be allowed to play in both Euro 2012 and London 2012 next summer.
"It makes life impossible for the clubs and the players especially, "said the Arsenal manager.
England's Football Association has vowed to open "sensible dialogue" with clubs over selection.
On Thursday the FA suggested England players taking part in the European Championhips in June 2012 could also play for Great Britain at the Olympics in July and August, if a schedule could be worked out between England manager Fabio Capello and newly appointed Olympic head coach Stuart Pearce.
Pearce must choose a squad of 18, which can include no more than three players over the age of 23.
Of Arsenal's players, that could potentially affect Jack Wilshere, Kieran Gibbs, Alex Oxlade-Chamberlain and Theo Walcott. Aaron Ramsey is also likely to be involved in Great Britain's Olympic squad.
"At some stage you have to decide how far you can go medically for the players to play so many games under so much pressure," Wenger continued.
"The competition [Olympics] is after the European Championship. The Euros finish on 1 July, we start the championship [Premier League] on 15 August, we start pre-season training on 4 or 5 July, that means we will not have the players after the Euros.
"I would say there is already no real break because of the European Championship and the Olympic tournament for me is not a real football tournament, for me the Olympics is for track and field basically."
Sir Alex Ferguson agrees with Wenger and believes players will need more rest after an intense Premier League season.
"That's why I keep saying I never expect England to do well at a European championship or a world championship because the players have gone through a hell of a season," said Ferguson.
"It's exactly the same with the Olympics - I don't see how they can possibly get players to raise the bar after the season they have in our game.
"They need the rest, they need the pre-season training, they need the recovery and recuperation from injuries, small injuries they carry right through the season."
Chelsea boss Andre Villas-Boas, however, said he was happy for his players to be considered to represent Great Britain at the Olympics.
Daniel Sturridge, Ryan Bertrand and Josh McEachran could all be included in Pearce's squad as underage players, while John Terry, Frank Lampard and Ashley Cole would be eligible to fill one or more of the three overage spots.
Villas-Boas said: "Stuart has to decide freely on what he wants. "It can collide with clubs' interests for sure.
"Not everyone has this stance of respect for Olympic competition, but I have. "Everybody should be proud to represent their country in the Olympics, which is a very special event."