Worlds 'make or break' for Nic Asher Olympic hopes
Last updated on .From the section Olympics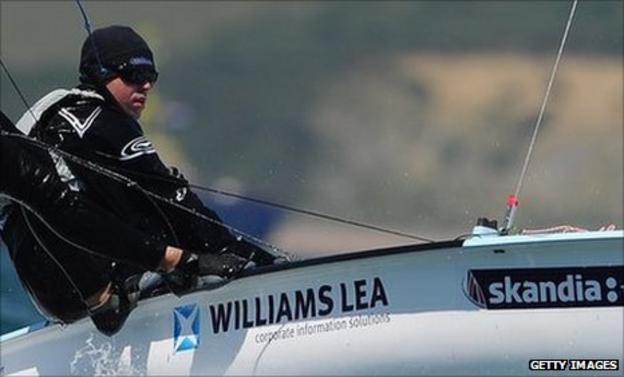 Nic Asher has admitted his Olympic hopes rest firmly on securing a medal at this year's World Championships.
Illness and equipment problems have stifled the 26-year-old's attempts to qualify for the 470 at London 2012.
But a third world title in Perth this December would reignite the Lowestoft sailor's challenge.
"Perth is make or break for us. We need to win or get a medal for our hopes of going to the Olympics to stay alive," he told BBC Radio Suffolk.
"We are also highly motivated to win a third Worlds.
"I think if we really knuckle down and work hard over the next few months we can get back to the level that got us two World Championships and beyond it."
Since being diagnosed with a thyroid disease in June, Asher has been learning to manage the problem with medication.
He believes he moved a step closer to full fitness when he and partner Elliot Willis finished fourth at last month's Europeans.
"After months of being exhausted and not being able to train my fitness levels are not where they need to be," he said
"I think this affected me quite a bit but I think the Europeans were good for us. We needed to get back racing and get back on track for the Olympics.
"Obviously we were not race sharp, and a few times this was frustrating as we couldn't do what we wanted to do.
"It highlighted the areas we needed to work on in the training period before Perth, so it was a positive thing to do."
Asher's main competitors for an Olympic berth are Nick Rogers, who finished fifth in last week's test event, and world number three Luke Patience.