Olympic Dreams: Edenfield handballer Ciaran Williams
Last updated on .From the section Olympics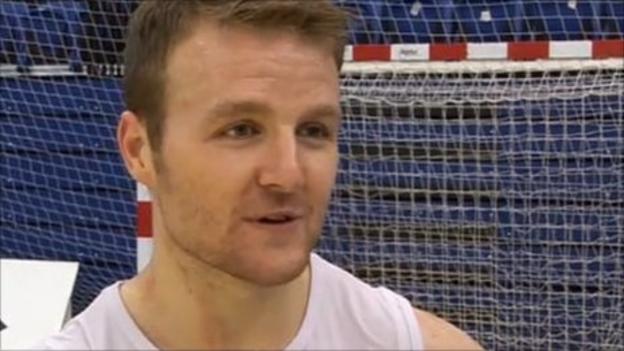 Having a UK handball team at the London 2012 Olympics is just the boost the game needs, says Lancashire player Ciaran Williams.
The 23-year-old, from Edenfield, said interest in the sport was building, especially after England's first competitive victory last year.
"It was a milestone for handball in this country and I was happy to lead the team out," he said.
He expects to find out if he has been selected for London by next June.
"There's no guarantee for anyone being in the team, it's going to be a nervous time for me," the player said.
"Twelve months to go and the pressure's building, it's getting more intensive for me individually and as a squad."
There's a heritage of handball playing in his family as both parents played the sport for Great Britain in the late 1980s and early 90s.
"I'd always wanted to be a handballer, even when all my friends were into football and rugby, I'd even planned on going to university to do German to give me a year abroad playing handball," Ciaran Williams said.
"If I didn't believe in myself I wouldn't be where I am now. It's been a tough, long road.
"Handball for Team GB at these Olympics is new, but it's been around since the 1970s, it was even trialled in the 1930s Olympic Games, Hitler was a huge fan.
"It's a game where everyone attacks and defends, full contact, fast paced, lots of skill, that's why I'm so excited for after the games because we've got such a hotbed of talented athletes and the sport will pick up in no time," he added.
Ciaran Williams is one of BBC Radio Lancashire's featured athletes as part of 'Olympic Dreams' in the build-up to London 2012.