Olympic Dreams: Haywood targets success in final Games
Last updated on .From the section Olympics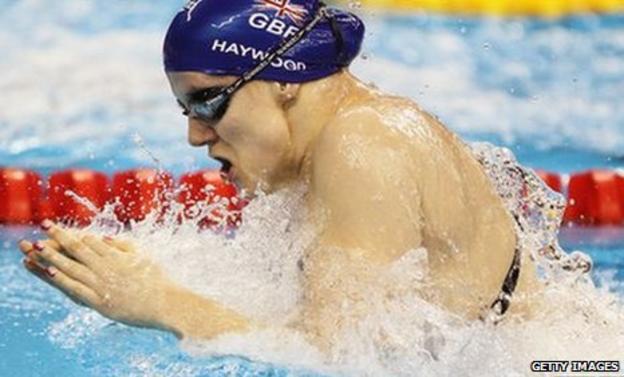 Lincolnshire's Kate Haywood hopes to win an Olympic medal before her planned retirement after London 2012.
The 24-year-old, who has swum for Great Britain since the age of 15, hopes to reach the 50m and 100m breaststroke finals and be part of the relay team.
"I am still disapointed that I don't have an Olympic medal but I am hoping next year that I might be able to get one," she told BBC Lincolnshire.
"My plan is to retire after the Olympics to try something different."
She added: "I have had to sacrifice so much, but at the end of the day I have achieved a lot."
Haywood is currently training in Australia under the same coach as rival Leisel Jones.
"I had been in Loughborough for eight years. To train with Leisel Jones has done me a lot of good, I have been able to see where my weaknesses are and work on them."
Haywood, who took part in the Beijing Olympics in 2008, said she will not be daunted by the size of next year's event.
"Once you get on the blocks you just think about the race - I ignore the fact that it's the Olympics and there are thousands, or even millions, of people watching," she said.
"I just focus on what I've got to do."
Her mum, Caroline explained why Haywood left Louth Dolphins to move to a swimming club in nearby Lincoln.
"When we started off in Louth the coaches always thought she had a talent, so we moved to Lincoln to take her to a bigger club," she said.
"Now she is in Australia my main worry is that she likes it so much she might stay and choose to live out there.
"But we are very proud of her and love her to bits."
Dad, Stuart, who recently suffered a stroke said watching his daughter compete has helped him through a difficult time.
"When I see Kate on tv I start shouting 'go on Kate' as soon as she dives in - I don't want her to give up."
Haywood says support from her family and friends is vital.
"You need the support from everyone - your coach, people you train with, but mainly the support from my family and my boyfriend," she added.
"If it wasn't for them I probably wouldn't be swimming anymore."
Kate Haywood is one of BBC Lincolnshire's featured athletes as part of 'Olympic Dreams' in the build-up to London 2012.