Olympic Dreams: Stevan Walton is shooting for Olympic gold
Last updated on .From the section Olympics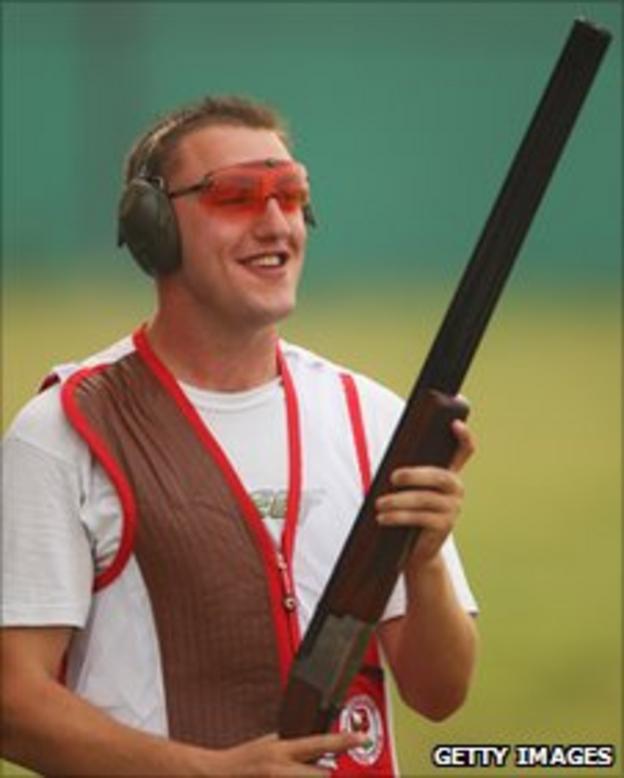 A Worcestershire clay pigeon shooter, who won two gold medals at the Commonwealth Games, has set himself the goal of repeating the feat at the 2012 Olympics.
Stevan Walton knows he faces tough competition just to win one of the two places in the Olympic squad.
"Basically it's a shoot off between now and when the Olympic committee pick the team," he said.
Walton is in training for the European Championships in Belgrade in August.
"I've shot there before, I've shot a big score there before, I like the background, so I'm going to go there confident," Walton added.
He competes in the double trap event, aiming at a pair of targets that appear 30 yards (27m) in front of the shooter.
Walton has had to make sacrifices to compete at the top level, and is currently unemployed because he could not get the time off he needed to compete in the Commonwealth Games.
A run of poor form also lost him the lottery funding given to athletes who are considered world class.
"I'm on a hardship scholarship scheme, which is helping a little bit financially, but obviously I need to work because it's a very expensive sport at my level," he said.
None of this has blunted his ambition to compete in London 2012 and win gold, not just for himself but for everyone who has supported him.
"I've got friends and family and if, fingers crossed, I go to the Olympics and get a gold medal it's not just mine, it's for everyone," he said.
Stevan Walton is one of BBC Hereford & Worcester's three featured athletes as part of 'Olympic Dreams' in the build-up to London 2012.