London 2012: Ohuruogu says Games must engage kids
Last updated on .From the section Olympics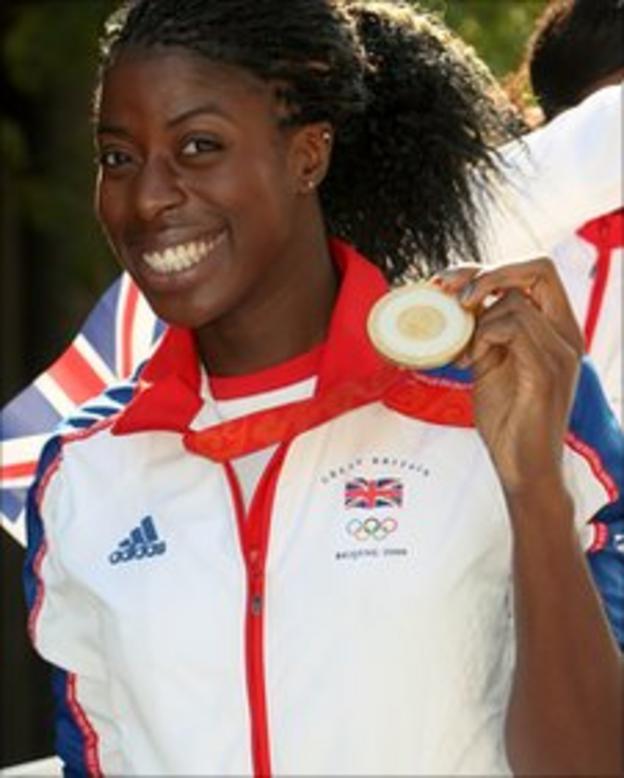 Olympic gold medallist says young people she has met are "not really interested" in the London 2012 Games.
With a year until the opening ceremony, the 400m champion has called for more to be done to include youngsters.
Ohuruogu told the BBC: "I've seen, not apathy, but it is like, 'We don't take part in sports, what's in it for us?'.
"They are excited. However, it is very hard to sell the Olympic story when you have not experienced it."
Ohuruogu, 27, was brought up less than a mile from the Olympic site and has been speaking to young people in her local area.
And she added: "The general impression I get is that they are not really interested.
"I am fortunate enough to have been to two Games so I know how brilliant it can be.
"They don't really see what is there for them. It is very hard to get people to understand how amazing it actually is.
"It is almost like it is for everybody else: people who are athletes, the sponsors, the older generations, all the ones who have money.
"I think that is a shame and there is more that needs to be done over the next year to make sure we include our all young people."
Ohuruogu's comments suggest she feels a key aim of London's Olympic bid - inspiring more young people to get involved in sport, both at school or college - might not be met.
However, a number of initiatives are already in place to increase participation. Earlier this month it was announced 2,000 people aged 16 and 18 were being sought to help out at the Games alongside the 70,000 adult volunteers.
A separate scheme will create young ambassadors from across the country whose challenge will be to help increase participation in sport and physical education.
Lord Coe, chairman of London 2012, has previously predicted that the Olympics and its "lasting legacy" would inspire future generations to play sport.
But, speaking on BBC Radio 5 live, Coe agreed with Ohuruogu that more needs to be done to inspire young people.
"What Christine is saying I think is probably what we recognise across the whole project, that over the next year there is a lot more work to be done on engaging people and explaining what we are doing," he said.
"I do partly agree with Christine but I spend a lot of time in East London, its our headquarters. We're not just stuck in the headquarters, we go to all the boroughs and we do a lot of work in the boroughs and schools.
"We also have a higher level of public approval than any other Olympic city at this stage.
"We've got 250,000 people that want to be volunteers, oversubscriptions for people wanting to run with the torch and yes, I will say it, the extraordinary and unprecedented demand we've had for tickets - none of this is evidence of a country that has no interest in the Olympics.
"But, I do agree that in the next year we have more work to do to explain what we're doing."
Lord Coe has said he was inspired to take up athletics after watching the 1968 Mexico Olympics and in a recent interview he stated that having the world's best sport stars in London would boost future participation.
"The greatest tool you have is a well-stocked shop window," he added.
"It will be the performance of the stars in the Games that gets people involved. You drive participation off role models. Then you capture it with improved infrastructure. I think we're in much better shape to do that than ever before."
The legacy aims of the 2012 Games also included a pledge to reach 12 million children worldwide, mainly in developing countries.
Speaking last week, Coe stated: "We promised that the lives of 12 million young people would change through the power of sport, so a year out from the Games I am delighted to announce that we have fulfilled that pledge."