50 worldwide contenders for 2012: Caster Semenya
Last updated on .From the section Olympics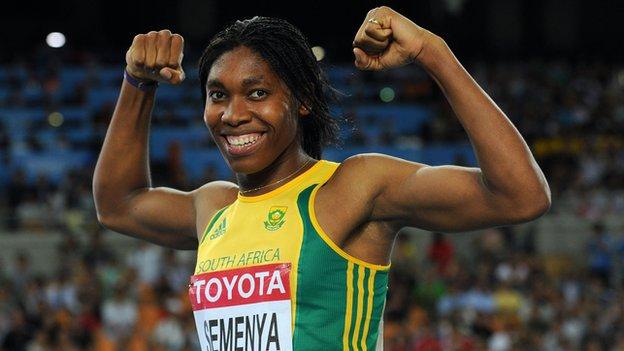 Athletics (800m, 1500m)
Born: 07/01/91
Career highlight
Semenya cites her shock world title in 2009 as the best moment of her life, despite the much-publicised controversy that followed as her gender was questioned. She won 800m gold in Berlin in a world-leading time of 1 min 55.45 sec - only three weeks after breaking the two-minute barrier for the first time when clinching gold at the African Junior Championships.
Career lowlight
The South African was suspended for 11 months by the IAAF as athletics' governing body investigated doubts over her gender in the wake of her world title. The IAAF revealed their investigation three hours before Semenya secured her first major gold.
She was finally cleared to return to the track in July 2010 and won silver at last year's World Championships despite a back problem. Her gender results have never been released, but the IAAF has subsequently approved new regulations governing the eligibility of female athletes with hyperandrogenism, a condition characterised by excessive production of testosterone.
Other career
Semenya says she prefers the 1500m and hopes to double up at the Olympics.
Born in a tiny village in South Africa's northern Limpopo province, her first love was football before a teacher got her interested in running.
She won 800m gold at the 2008 Commonwealth Youth Games but withdrew from the Commonwealth Games in Delhi two years later due to a back injury.