100 Team GB contenders for London 2012: Christine Ohuruogu
Last updated on .From the section Olympics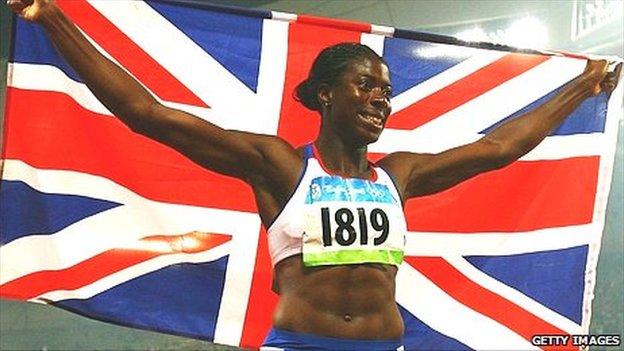 Athletics (400m)
Career highlights
Ohuruogu is the UK's only current Olympic champion in athletics; her gold in Beijing came after she won an appeal against a lifetime Olympic ban for missing three out-of-competition drugs tests.
Suspended for a year for that offence, the east Londoner nonetheless won the 2007 world title just 24 days after being eligible to return. Her rise to prominence began in 2006 when she beat then-Olympic champion Tonique Williams-Darling to Commonwealth gold.
Career lowlights
Ohuruogu was handed her one-year suspension by UK Athletics for failing to be available three times when drug testers called between October 2005 and July 2006. She cited changes to her training schedule as the reason for her not being at the address she had provided.
Ohuruogu's post-Olympic form has been forgettable, failing to run under 50 seconds and being disqualified at the 2011 World Championships for a false-start in her heat.
Her 2010 season was curtailed by a torn thigh muscle, while the previous year she suffered a mid-season hamstring injury and subsequently surrendered her world crown to American rival Sanya Richards; Ohuruogu admits to crying her eyes out after labouring home in fifth.
Did you know?
The second of eight children, Ohuruogu was raised in Stratford, less than a mile from the Olympic site.
She was a member of the England Under-19 netball squad until she quit in 2003.