BOA defends Team 2012 football statement
Last updated on .From the section Olympics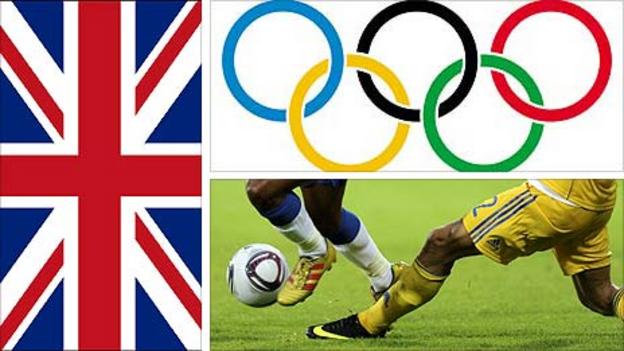 The British Olympic Association has denied it was misleading when it announced a "historic agreement" had been reached to field a united Great Britain football team at London 2012.
Scotland, Wales and Northern Ireland said they did not support Team GB although they cannot legally stop their players from participating.
"It was not misleading," BOA chief Andy Hunt told BBC Radio 5 live.
"BOA and English FA had the agreement, the FA then worked with the others."
The English Football Association's general secretary Alex Horne stated that the nations that stood in opposition of Team GB had accepted the BOA's right to select their players.
"All three associations have notified us in writing that they acknowledge that legally we are entitled to support the BOA in the selection process," he added.
Scottish Football Association chief executive Stewart Regan reiterated his nation's stance but said their players would be free to participate without fear of sanctions.
"If any player wishes to take part in the Olympics then the Scottish FA will not stand in the way. We've made that clear and we've spoken to our players," he said.
"We will not take any sanctions or punishments."
However, Regan did state that the Scottish FA was concerned that the letter received from Fifa, assuring them of their future sovereignty, was not legally binding.
"Having a letter from one current [Fifa] executive committee is fine at this point, but any future committee can overturn a letter," he added.
"We don't have a guarantee or binding contract, we just have a letter. Our board don't think that's strong enough. We therefore don't wish to participate and neither do our fans. They want to see football played under banner of Scotland. We would have to revisit the debate if a binding contract is produced."
The English FA, which is in charge of Team GB, said the futures of the other home nations had been protected.
"We are sensitive to the concerns of the other home associations in relation to each of our individual identities, and we have been assured by Fifa there is no threat to each association," Horne added.
Regarding the make-up of Team GB, FA chief Hunt said he could not say whether the side would be "predominantly English".
"It's entirely up to head coach whether to pick players from other nations," Hunt added on BBC Radio 5 live.
"This will be a British team but I can't say whether it will be predominantly made up of English players. Any player from the home nations has a chance to play."