Scots deny GB Olympic football team agreement is close
Last updated on .From the section Olympics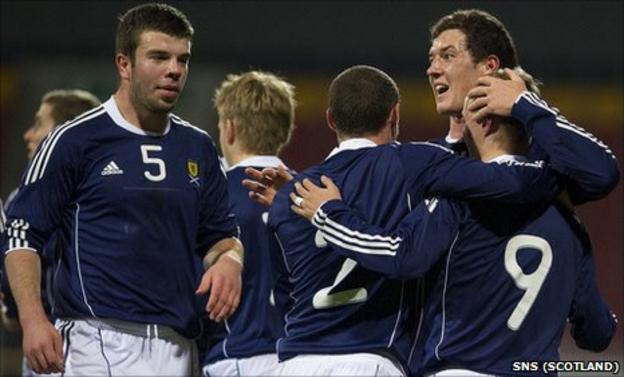 The Scottish Football Association remain opposed to fielding players in British football teams at London 2012.
British Olympic Association chief executive Andy Hunt is "incredibly positive" that there will be men's and women's sides at the Olympics.
Hunt told insidethegames there remain "some final things to resolve".
However, SFA chief executive Stewart Regan said: "We haven't spoken to Andy Hunt and our position on the matter has not changed."
He added: "We have consulted the Association of Tartan Army Supporters Clubs, our board and also members of the media and there is absolutely no appetite."
The Welsh, Scottish and Northern Irish Football Associations have repeatedly expressed opposition to British Olympic teams but cannot legally stop players competing.
"Legally, we couldn't stand in any player's way if it was their wish, nor would we stand in their way if that's what they wanted," explained a spokesman for the SFA.
"But, when the players were asked about it during our preparations for the friendly with Brazil in March, not one noted an interest."
An English-only football team may be in breach of International Olympic Committee rules on discrimination, Hunt warned.
The non-English FAs have been hesitant over plans for a British football team.
They expressed concerns that it could lead to the formation of a permanent British side and that they might lose their representation on the International FA board.
The BOA has left management of the GB team with the English FA and it appears likely that the bulk of the squad will be formed by the current England Under-21s.
But if agreement is reached then a British team at the 2012 Games could include Wales internationals Aaron Ramsey and Gareth Bale, while older players could also feature.
Olympic football squads are allowed three players over the age of 23.
David Beckham has already shown his willingness to be involved in a British Olympic football team for 2012, saying that he would "love to be part of it".