London 2012: young James Huckle shooting for gold
Last updated on .From the section Olympics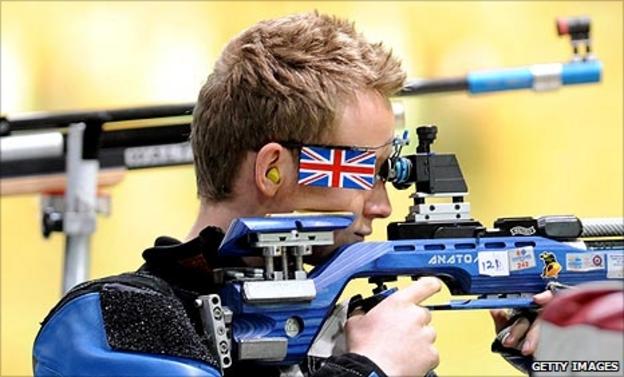 "Son, why not get a tennis racquet?" the doting Essex mother of Olympic shooting hopeful James Huckle begged. "Or a football?"
Fast forward to London 2012, though, and her talented 20-year-old could be momentarily putting down the gun he eventually persuaded his parents he should have to let a historic gold medal settle around his neck only 50 miles from their home town of Harlow.
Think quickly of shooting. If you are in Britain, it is probable certain images flood the mind. Dark green waxy jackets. Exuberant cut-glass hurrahs. Clambering four-by-fours. Trappings of elitist wealth.
Now think of guns. Youth crime, often in the inner cities, may spring to the fore. Dark cycles of sad poverty. Drugs.
But, with National Shooting Week upon us - its main goal being to enable anyone across Britain to try shooting, safely, for the first time - is it time to cast off these quick stereotypes, especially while the opportunity is there to try out an Olympic and Paralympic discipline?
Innovative Huckle - who will be one of the youngest rifle shooters at London 2012 should he, as expected, clinch Olympic qualification - makes it plain that he did not get into shooting because of any deep-rooted family tradition, or 'breeding' as one might put it.
That the sport is, in fact, as accessible as most others.
Beyond that, the eloquent 'Essex Ambassador' is an Olympic star in the making: young, articulate, not afraid to share an opinion - and with a real story to tell. Neither did it do any harm breaking a long-standing British final record - set by legendary double Olympic gold medallist Malcolm Cooper in 1989 - in the Three Positions Rifle at the World Cup in Korea earlier this year. A breakthrough achievement.
This is his colourful insight into the world of competitive shooting.
HOW I GOT INTO SHOOTING
"I was intrigued, I just really wanted to have a go when I was 12 or 13. Because we lived near the countryside, my dad had an air rifle for vermin control. Something he bought on the spur of the moment which he didn't really end up using.
"He wasn't massively keen on me just having a go on that, obviously, so he thought the best place for me to go was a club. I literally just went on Google and typed in 'shooting'.
"Your nearest club is the best place to start learning the safety aspects, and also to meet other guys who can tell you about the sport.
"The club I joined was an air rifle-only club, which did not specialise in any Olympic events - it was more for field shooting people. At this point, I was completely unaware it was an Olympic sport.
"I was quite happy doing judo and tennis up to a national level - and was thinking they'd be the sports I'd really like to do at the Olympics.
"But they asked me to compete, and I placed first in the juniors with a score that would have beaten the seniors at the British Championships for a field target shooting event.
"That's when I knew, as a competitor, that I was not too bad at it.
"Then one guy at the world championships, where I was second, said 'you're a great standing shooter, do you know it's an Olympic sport?' I'm not from a wealthy background, I hadn't shot any animals, I was doing it for fun.
"But when he told me to head to Bisley [the National Shooting Centre], I did it as soon as possible.
"It took a lot of convincing my parents initially. I needed a couple of Christmases and birthdays to save up for a rifle of my own, and make them realise this wasn't just a passing phase.
"They had said 'no - you don't need a gun - you're doing well with your tennis and judo, shooting is far too dangerous'.
"But, basically, it's just a lack of understanding and knowledge of the sport which brings that kind of fear into people. Inherently, its massively safe. Officially, it's the second safest sport on the Olympic calendar in terms of its ratio of injuries."
WHY BRITAIN HAS AN PERCEPTION PROBLEM
"Nearly every family in Germany has a gun, it's the equivalent of something like golf for them out there - a bit of a family sport too.
"And in European countries, where they've done National Service, almost every male has done something with a gun. Switzerland for example, but especially Germany - where it's much more of a sporting, shooting-related country.
"Over there, anyone can go and shoot for a day at a range - and it's not especially expensive to do so.
"In Germany it seems to have really caught on as a spectator sport too. You're allowed as much noise as possible, and plenty of cameras around the shooters.
"They also devise fun and games around the shooting, so it really appeals to the mainstream audience. Most importantly, they've really embraced it as a safe sport - that helps massively.
"In Britain, we've got this stereotyped view of people with guns as villains, as a nasty person. That you can only possibly want to own a gun to hurt someone. But that's not the case.
"In the same way that a javelin was invented to spear animals, I'm sure you wouldn't judge someone throwing them at an Olympics as someone who goes hunting animals. Unfortunately, we do base our stereotypes on the traditional side of things - but other countries have moved on from that now."
SURVIVING WITHOUT FUNDING
"I'm not funded [by British Shooting]. But my Mum and Dad are very supportive, and I work for them.
"They've got their own business making aircraft placards and stickers. I'm involved in the design and manufacturing process, and distribution. I'm a general dogsbody really!
"At the moment, I'm [still] trying to learn every job. A typical day would involve designing the label or placard - 'Do Not Sit Here' or seat numbers - then go round into the manufacturing phase, screen printing the image onto a piece of poly carbonate plastic, then laminating it with fire-retardant glue.
"Then you got the paperwork and accounts side, which I'm still learning. It's a great thing to do to take my mind off sport for a while. But, same as anyone else, I'd far prefer to be out shooting [engaging in one's passion] the whole time. I embrace it for the break it gives me, though.
"I'm also lucky enough to get some funding from the Team Essex Ambassador Awards. They give me £6,500 - which is a massive sum - and in return I go round visiting schools promoting sport. It's helped me fantastically. Without that support I wouldn't be shooting today."
PIONEERING TRAINING METHODS
"I do train at a shooting centre in Romford. But I also train in our garden in Harlow, where we've got garages down the back side where my Dad keeps some cars. There's a small alleyway, only a couple of metres wide but most importantly 10m long.
"And I actually use an electronic simulator, I'm not actually firing any bullets. Its just purely a computer-orientated programme so, it's as quiet as it can be really. None of the neighbours probably know it exists.
"It's so handy because usually, in shooting, you fire the shot and get the result - and that's it. You hear a bang, look at the target, and see where it's gone.
"But that'd be like knowing a football match finished 2-0 to one side, and nothing else. We all know it could be a really lucky goal went in, or one team absolutely dominated.
"Yet with this computer programme you can see the process, not just the result.
"The complex ballistics around how a bullet reaches the target is far too quick to comprehend, otherwise. It's basically a laser at the end of your rifle that you're shooting at a sensor on the target - and it shows you where all of the movements were leading up to that shot. That's massively important to determine where the shot is placed.
"The most important thing for me is that it really defines your technique. It's amazing to see the variety of ways in which you can get a 10. You can really start to unpick the bits of your technique that always work, and the bits that are a bit lucky.
"In Britain, and possibly in most of Europe, it wasn't that popular until three or four years ago. The technology was developed by the Russian national team, and almost simultaneously by the Chinese national team, and they were very secretive in the 1990s about it.
"So it's amazing that they've been able to mass produce it for other shooters. A lot of the new generation find it very helpful, but some old school traditionalists still prefer to use trial and error - nothing technical, just repetitions.
"Abroad, more and more now, coaches are finding it's a very good way to analyse people's technique - and ultimately gain success in the future. In Britain, it's not that common. I'm pretty much the only person who uses it."
BREAKING LEGENDARY MALCOLM COOPER'S RECORD
"When I first came into the sport, everyone talked about Malcolm Cooper.
"Especially when I decided to take up the Three Position, which is really the blue riband event because its deemed the hardest - you need to master the three positions [prone, kneeling and standing] all right on the money on the one day.
"He's such a legend and hero, and there's so many myths and rumours about how he trained, and his commitment. I don't think you can be around the sport for long without his name cropping up in conversation.
"So it was unbelievable when I broke his record. I thought it was so out of reach I didn't even bother looking at what it was. I was just completely unaware, just knowing it had been set by one of the best final shooters in the world.
"But when my coach came up to me to tell me - it was crazy. It meant so much to me, taking on the hardest event and rivalling the legends."
RACE FOR OLYMPIC QUALIFICATION
"I've just been at a World Cup event in Fort Benning, a huge United States military range near Atlanta in Georgia. It's one of the only shooting ranges in the world where you can see helicopters and fighter bombers fly down opposite the range. It's a surreal experience.
"My results weren't fantastic but it was a good average and I shot a personal best in one event. I would like to earn a quota place for myself, but if not, there is a place there for the best shooter in Britain. I'm confident.
"With rifle shooters in Britain, we've had a massive divide between people in their mid-30s and those in their late teenage years. I've been training with that [younger] gang, people like Jen McIntosh. We've been chasing Jon Hammond, Mike Babb, Neil Stirton and Matthew Thomson.
"There's been a big age and experience gap. They've been shooting for 15-years plus, much longer than us.
"So only this year has it got to the stage where I could beat any of these guys.
"It would mean so much [to qualify for the Olympics]. The first one I watched was in 2000, Sydney. I've so much respect for all of the people who get there: they are the most elite, hard-working of all.
"I appreciate all sports, having done a lot of others as a kid, so I know - although they're all different - that it takes the same set of skills, motivation, commitment, not to mention the level of training, to get there.
"Just to witness the other athletes there would be amazing. But to be competing alongside them, putting 100% effort in, would be a dream come true.
"Although initially daunted at the Commonwealth Games in Delhi [where I won a silver and bronze], when you stand shoulder to shoulder you realise they are very similar to yourself.
"They are human, but they have more experience. And it's about self improvement, rather than just beating someone else. Finding ways to improve individual parts of your technique so that you can shoot 10s all day - under any conditions.
"Shotgun [shooting] is a completely separate event, quite different. Theirs is a moving target, ours is still. That's definitely a more popular sport: if you say shooting to most people, they think of clay pigeon. They've been more successful, so had more grass roots funding. But rifle is just as exhilarating."
EMBRACE NATIONAL SHOOTING WEEK
"Shooting is quite unique, in that it's not prejudice to your height, size or weight. Pretty much anybody can do it.
"It's not biased to your age or fitness levels. Anyone can pick it up and have a go. Just give it a go and enjoy yourself. Embrace how exciting it will be to fire that first shot. It will be such an interesting day out if you've never done it before. You will be really surprised."