London 2012 Olympics opts for blue hockey pitches
Last updated on .From the section Olympics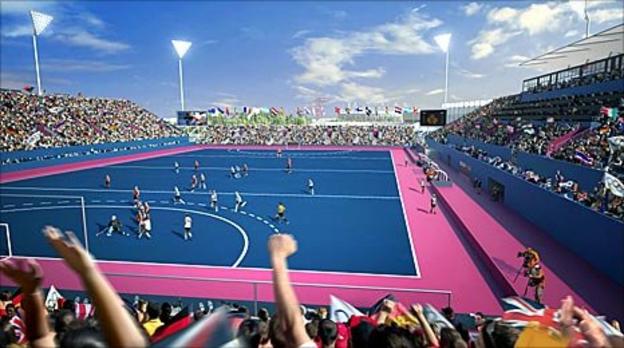 The London 2012 Organising Committee has revealed that the hockey pitches at the Olympics will be blue.
This will be the first Olympic or world event to be played on a different coloured synthetic turf to the traditional green.
The colour change is designed to improve viewing for players, officals, spectators and broadcasters alike.
GB international Alex Danson said: "It provides a strong contrast for players against a white ball and white lines."
The pitch run-off areas will be pink, providing a striking difference to the playing area.
Kelly Fairweather, chief executive of the International Hockey Federation stated: "The playing performance and quality of a pitch are our primary concern.
"In addition though, we're keen to innovate in the presentation of hockey to ensure, among other things, that spectators either in the stadium or on television get a good view of the exciting field action."
The hockey centre is due to be built next Spring and will be a temporary 16,000-seat outdoor stadium in the Olympic Park.
It will feature two pitches, one will be used to stage all 76 matches, while the other will be used for training.
The hockey centre will also be used to host both the five and seven-a-side Paralympic football competitions.
Meanwhile, 27 former British Olympic athletes have been unveiled as Team GB 2012 ambassadors.
Team GB 2012 chef de mission Andy Hunt said: "The Ambassadors will play a vital role inspiring the athletes, coaches and their families."
Rowing legend Sir Steve Redgrave, who won five of the 27 gold medals picked up by the elite group of volunteers, added: "I can't think of any better way to support the team.
"I hope I can use my vast experience of competing in the Olympic environment to help prepare members of the team to deal with the pressure, the scrutiny, the highs and the lows."
The other 26 Olympians are: Adrian Moorhouse, Amir Khan, Amy Williams, Christopher Dean, Colin Jackson, Darren Campbell, David Hemery, Denise Lewis, Duncan Goodhew, James Cracknell, James DeGale, Jayne Torvill, Jonathan Edwards, Kelly Holmes, Kriss Akabusi, Lynn Davies, Mary Peters, Rhona Martin, Roger Black, Robin Cousins, Sally Gunnell, Sharron Davies, Shirley Robertson, Steve Backley, Tessa Sanderson and Tim Henman.