Enniskillen road races: Irish rider Kevin Baker 'stable' after race incident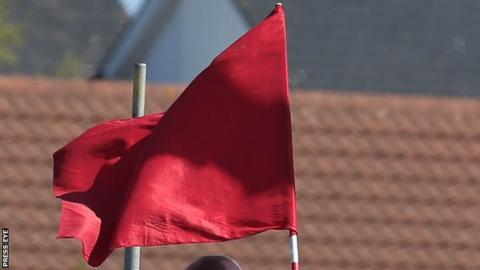 Irish rider Kevin Baker is in a stable condition in hospital following a crash during the Senior Support race at the Enniskillen road races on Saturday.
The County Clare rider, who is in intensive care at the Royal Victoria Hospital in Belfast, had been described as 'critical' on Sunday.
Baker was airlifted from the scene of the incident, which saw racing delayed by more than three hours.
Forest Dunn won the feature Richard Britton Memorial and Open races.
Kevin Fitzpatrick and Darryl Tweed were the Supersport 600 victors, Gary Dunlop won the 125cc/Moto3 event and Dominic Herberston took a Supertwins success.
Dunn took the chequered flag in a shortened three-lap Open event, followed by Tweed, Herberston and Fitzpatrick.
The English rider earned a repeat success in the keenly contested feature race, with Thomas Maxwell, Fitzpatrick and Tweed following him home on that occasion.
Dunlop, who followed up his maiden 125/Moto3 triumph at Killalane back in 2017 by winning the same class at Kells two weeks ago, enjoyed a winning margin of 1.3 seconds over runner-up Sam Grief, with Fitzpatrick, Nigel Moore and Melissa Kennedy making up the top six.
Republic of Ireland rider Fitzpatrick edged out English newcomer Herbertson by 0.73 seconds in the opening six-lap Supersport race.
Kawasaki-mounted Fitzpatrick, the 2015 Irish Senior Support champion, got the better of his Davies Motorsport-backed rival despite Herbertson setting the fastest lap of the race on his final circuit.
Herbertson saw off the challenge of Paul Williams in the Twins outing, with Fitzpatrick and Herberston making up the podium in Supersport 600 race two.
Derek McGee, a five-time winner at last year's running of the races, misses this year's event as he is still recovering from injuries sustained in a Supertwins practice crash at the Isle of Man TT.
Other leading Irish road race regulars, Derek Sheils and Paul Jordan are also sitting out the race, while Adam McLean is still on the injured list following his crash at the Tandragee 100 at the start of May.