European Games: Michaela Walsh secures featherweight medal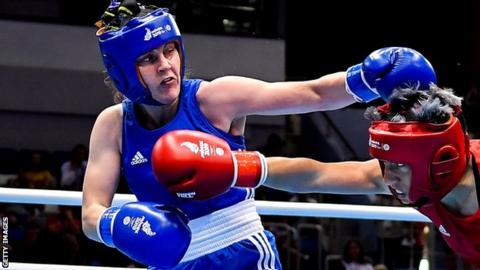 Belfast boxer Michaela Walsh has guaranteed at least a featherweight bronze medal at the European Games.
The 26-year-old beat world champion Ornella Wahner of Germany on a 4-1 split decision in their quarter-final.
Walsh, who won bronze at the inaugural European Games, will face Russia's Daria Abramova in their semi-final.
Lisburn bantamweight Kurt Walker, Grainne Walsh and Kellie Harrington also won to take Ireland's tally of boxing medals in Belarus to six.
Walker scored an impressive unanimous decision against Samuel Kistohurry of France to secure his semi-final spot while Galway-native Grainne Walsh defeated European champion Elina Gustafsson of Finland on a similar score.
World lightweight champion Harrington earned a 4-1 split decision win over Italian Irma Testa.
Regan Buckley and Michael Nevin both won their quarter-final bouts on Tuesday while on Wednesday Aoife O'Rourke of Ireland Aoife O'Rourke lost out on a unanimous decision to GB's Lauren Price.
'My aim is for gold'
"I was a bit surprised by the harsh split [decision] but that's the current world champion and I've just dethroned her," Michaela Walsh said after her quarter-final win.
"I tried to stick to my tactics because my coaches came up with a brilliant game plan, I feel I'm just getting better fight by fight. I've had a tough draw but it will make winning the gold medal all the more worth it."
The two-time Commonwealth silver medallist added: "I'm proud but I'm not satisfied. My aim is for a gold medal so we'll move on to the next opponent and the job's not done yet."
In badminton, Nhat Nguyen was the pick of Irish competitors as he secured his place in the last 16 of the men's singles competition.
Nguyen recovered from losing the opening set of his match against Austria's Luka Wraber to secure a 21-19, 12-21, 14-21 victory in his final group game.
The men's doubles pair of Josh Magee and Paul Reynolds ended their tournament on a winning note with a straight-sets win over the Estonian pair to finish third in their group but Donegal's Rachael Darragh was beaten in her final group game of the women's singles against Finland's Airi Mikkela.
In canoeing, Lisburn's Afton Fitzhenry finished in sixth place in her semi-final of the C1 200m with a time of 53.312 seconds, which was 1.5 seconds slower than her time in the morning heats.
"It's been really exciting and really eye opening
"It was a bit of a funny start to the heat, there was no 'start' as it were but I just gave it my best reaction and just went for it, as I do with every race, and followed the process that I've got and the outcome is what it is really," Fitzhenry told British Canoeing.
"I'm going back to training for a couple of months now and I've got the World Championships in August in the C1 500m and I'm looking to really establish myself in that."
Also in the canoeing, Ireland's Jenny Egan advanced to the B finals with a seventh place finish in the women's K1 200 semi-final with a time of 43.427.
Ronan Foley missed out by just one second, finishing eighth in his semi-final with 38.413, with the top seven progressing.