European Games: Belfast fighter James McGivern loses last 16 bout in Minsk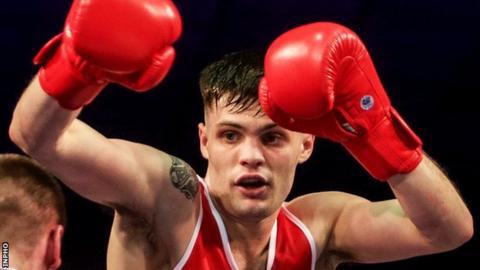 Belfast boxer James McGivern has been beaten at the last-16 stage in the light-welterweight division at the European Games in Minsk.
The 21-year-old Commonwealth Games bronze medallist lost on a unanimous 5-0 verdict to Armenian Bachkou Hovennes.
However, Irish boxers Regan Buckley and Michael Nevin are guaranteed bronze medals after quarter-final wins.
Light-flyweight Buckley defeated Martin Molina and middleweight Nevin beat Guler Serhat - both on split decisions.
Ireland cyclist Ryan Mullen was fourth in cycling's Men's Team Trial, less than one second off a medal place.
"4th. Possibly the most annoying place to finish in a major championships. Even worse when it's only one second," said Mullen on his Twitter account.
"But huge thank you regardless to Team Ireland and all the support staff for looking after me the last week. Sorry I couldn't bring home a medal for you."
Mullen's Ireland team-mate Michael O'Loughlin was sixth.
McGivern's conqueror Hovennes, the 2017 European champion and a world bronze medallist, asserted himself from the off, dictating the early pace of the bout and landing some hard blows.
McGivern worked hard throughout the rounds, but Bachkov simply had too much in the tank, delivering some decisive body blows and controlling the pace of the bout to win out by a unanimous decision.
"I'm tired - that was relentless," admitted McGivern. "It was hard to get my game plan going but he's European champion and this is my first senior elite tournament, so it's a learning experience."
In canoeing, Jenny Egan and Ronan Foley kicked off their campaign, with Egan competing in the Women's K1 500 where she qualified through to the semi-finals.
In the Men's K1 1000 Foley qualified through to the semis where he produced a personal best with a time of 3:37:385.
Ireland's Mixed Doubles Badminton Team of Chloe and Sam Magee and Men's Singles player Nhat Nguyen will have must-win clashes in their final group games on Tuesday after two tight losses.
After a fantastic win on Monday the Magees performed well against the French pair and group favourites Delphine Delrue and Thom Gocquel.
Team Ireland took the first set 22-20 but France came back in set two winning 19-21 to bring the match in to a third set. The French pair showed their grit to take the set and match 16-21.