Isle of Man TT: Racing suspended until Monday as bad weather continues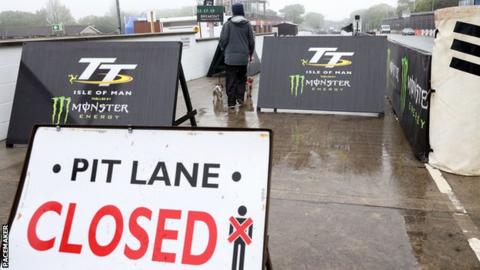 There will be no racing at the Isle of Man TT until Monday at the earliest as rain and mist continue to descend upon the Mountain Course.
Saturday's qualifying sessions were both cancelled as the poor conditions continued.
Organisers are hopeful that the weather will have improved sufficiently for qualifying to be completed on Sunday.
As it stands, bad weather has led to the cancellation of eight qualifying sessions this week.
TT organisers have now provisionally scheduled the Superbike race to take place on Monday, depending on the the conditions.
Clerk of the course Gary Thompson plans to consult with riders and team bosses on Sunday to decide on a timetable for the remainder of this year's meeting, including whether further practice sessions should take place beyond Sunday.
The event's air ambulance helicopters cannot operate in the conditions, which is a major factor in the decision to suspend all racing.
Practice sessions on Saturday, Monday, Wednesday and Thursday and Friday were also hit by the bad weather.
The only qualifying sessions to take place so far were held on Sunday and Tuesday.
The lack of practice had initially resulted in the opening Isle of Man TT races being moved from Saturday to Sunday.
Saturday was set to be used as an additional qualifying day with Superbike and sidecar races taking place on Sunday, however all racing has now been postponed until Monday.
Dean Harrison set the pace in the first Superbike qualifying session on Tuesday and also topped the Superstock class.
The Kawasaki rider's quickest lap is 129.53mph in the Superbikes and 129.34mph in topping the Superstocks.