William Manning: The GAA star who died fighting in the British Army during WW1
By Peter Crutchley
BBC Northern Ireland
Last updated on .From the section Northern Ireland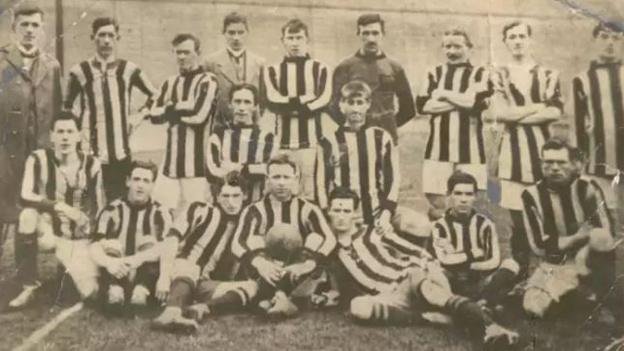 When in August 1912 Antrim achieved what is considered their greatest ever Gaelic football victory, a 12-point defeat of mighty Kerry to reach a second consecutive All-Ireland final, Belfast's William Manning was one of their brightest stars.
Coming from a strong footballing family, and helping Antrim in 1911 to become the first Ulster county to appear in an All-Ireland final, Manning had earned a reputation as one of the biggest names in GAA in the province, with a promising sporting future awaiting him.
But like so many young men of the time, Manning's life was changed irrevocably by the outbreak of World War One.
Born in Arglass in County Down in 1892, William's family then moved to the Falls Road area of west Belfast with his father working as a policeman in the Royal Irish Constabulary. He was still a young boy when his father died.
Historian Dr Dónal McAnallen, who has extensively researched the subject of GAA members enlisting to fight in World War One (an area which has long been the source of controversy given the GAA's ban on members of the crown forces), explains the Manning name had already begun to gain prominence in Belfast Gaelic circles before William came to the fore.
"William's cousin, also named William Manning and living in the Falls area, but five years his senior, had won Ulster hurling and football medals in the 1900s. Young William would go on to win an Antrim Senior Football Championship medal with the John Mitchels club in Belfast in 1912, playing alongside his brother John," said Dr McAnallen.
"William of course played a key part in Antrim's greatest-ever football victory - their All Ireland semi-final defeat of Kerry. He was described in the press as a 'remarkably clever exponent of half and three-quarter-back play'."
Manning's sporting prowess wasn't confined to football, as he was also a member of the Seaghan-an-Díomais club, who won the 1915 Antrim Hurling Championship.
His sporting career was cut short, when in 1916 he enlisted in the Royal Dublin Fusiliers regiment of the British Army. It is not clear what caused him to sign up to fight on the Western Front, but Dr McAnallen suspects money may have been a factor:
"One likely explanation is that the family income was low, with his widowed mother having two young stepsons to look after as well. What we do know is that west Belfast had one of the highest rates of enlistment in Ireland, and unemployment was high in the area."
Such was his popularity locally, his leaving for war was reported in the press, with Ireland's Saturday Night newspaper commenting:
"There passed through the city en route for the front, on Wednesday, 'Bill' Manning, who will be remembered as the former Shauns, Ollamh Fodhla and Dalcassian player. The day previous this the one-time All-Ireland hurler and footballer was entertained at a farewell party by several of his friends."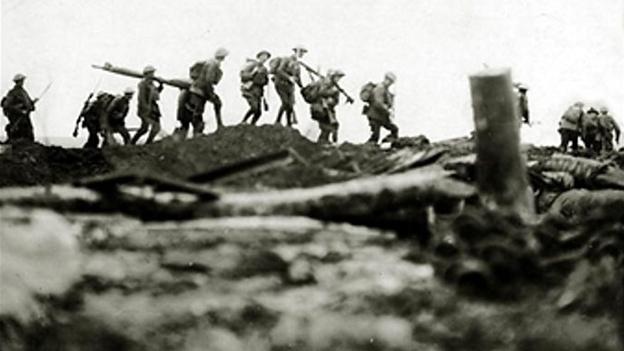 Manning proved to be a formidable soldier, rising to the rank of Lance Sergeant. His progress was followed by the local press in Belfast, and he allegedly even wrote a letter informing readers he was still alive and well.
But when the Germans launched a major offensive in the Spring of 1918, Manning was on front-line duty near St Quentin on 27 March when he was hit by a machine-gun bullet and was killed instantly.
The affection in which he was held by his comrades, and their grief at his death, was reflected in the words his commanding officer, Captain G. Craddock, wrote to William's mother:
"He died without any pain, hit by a machine-gun bullet. He was my platoon sergeant for some time and I always placed the greatest confidence and trust in him. I don't think I've ever felt so knocked out about anyone's death."
"I feel I am expressing the opinion of officers, NCOs and men in saying that he was one of the finest men it's been our lot to meet."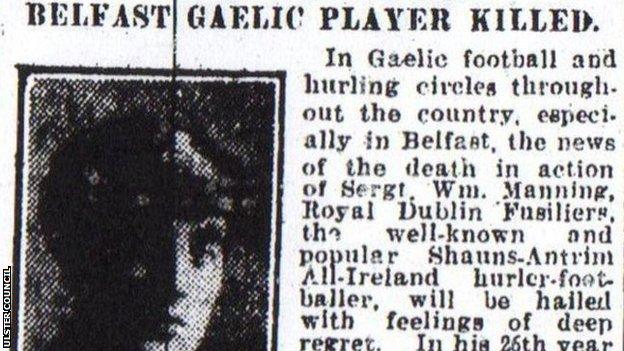 A number of GAA stars from across Ireland lost their lives in the war, including Wexford's star full-forward Jimmy Rossiter, who enlisted in the Royal Irish Guards and was killed at the Battle of Loos in September 1915. But those GAA members who returned home after the war were reluctant to discuss their military service for fear of being shunned in their communities.
Dr Richard McElligott, a lecturer in Modern Irish History at UCD and author of Forging a Kingdom: The GAA in Kerry 1884-1934, believes to fully understand their reticence it is important to remember how much Ireland had changed politically during the course of the war.
"Given the utter sea-change in political sentiment following 1916, these men, like thousands of their fellow Irish veterans, returned to an Ireland utterly different from the one they had left", he says.
"They were an uncomfortable legacy of a complex period. So in that prevailing atmosphere it was natural that many kept their military service a secret. The GAA itself spent the next century writing its own role into the story of Easter 1916 and the subsequent War of Independence. The story of some of its players fighting in a British uniform, under a British flag was a difficult truth, easier erased than confronted."
1916 had been a tumultuous year in Ireland's history, with the country in a process of change that permanently altered its political and social landscape. Resentment towards British rule was growing in Ireland, with rebels plotting an independent Irish Republic.
On 24 April 1916 the Easter Rising began, when roughly 1,000 rebels seeking independence surprised the British Army by taking over high profile buildings in Dublin.
The Rising ended with the execution of 15 of its leaders, which led to a change in public opinion in Ireland, with a surge of sympathy for the rebels. The GAA epitomised the rise in Irish nationalism.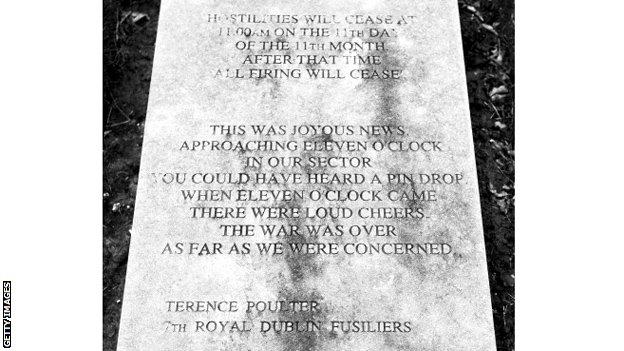 But in recent years, and now with the Armistice Day centenary, the GAA has made moves to acknowledge the significant role William Manning and many other of their former members played both on the sports field and in World War One.
Dr McElligott says these initiatives have been welcomed.
"It is good to see the GAA now moving, in some small way, to acknowledge these men's places in its complex history. They have been releasing a short online biography of 11 members who fought in the war during each of the 11 days approaching the Armistice Day centenary."
He believes the story of men like William Manning needs to simply be acknowledged.
"That's all any historical commemoration can really do. It is not about trying to desperately pretend something did not happen. It is about accepting the reality of our history, trying to learn from it and moving on. "