GPA: Players body says majority of inter-county footballers would support an All-Ireland B Championship
Last updated on .From the section Gaelic Games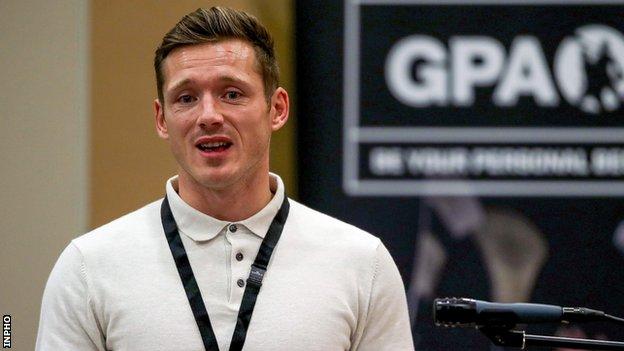 The Gaelic Players Association says that a majority of inter-county footballers now support the creation of a second-tier All-Ireland championship.
The players body has published the findings of an extensive membership survey following the changes made to the hurling and football championships.
There is widespread approval for the new Super 8s format in football and the five-tier structure in hurling.
The GPA says 60% of footballers would also back a tiered football tournament.
The inaugural Super 8s series, which replaced the All-Ireland quarter-finals, resulted in a more concentrated All-Ireland championship with increased fixtures and a new inter-county calendar that was expected to ring-fence the month of April for club fixtures.
In addition, there have been calls for the introduction of a second-tier competition in football that would increase the number of summer fixtures for Division Three and Four teams.
The GPA survey shows that the majority of inter-county footballers are now in favour of such a split.
"We wanted to hear the players' experience of the 2018 season so that we could bring it to the attention of the GAA and push hard for player centred change," said GPA chief executive Paul Flynn.
"We now have a strong mandate from our members to demand real and meaningful change to the fixtures schedule to allow players to better manage the intense demands of the modern game.
"We all want to ensure that the game flourishes into the future. It's essential that the players voice is heard and respected by the decision makers in the GAA and the GPA will be focused hard on ensuring that this happens."
The players body has already delivered its findings to the GAA's Central Competitions Control Committee and has called on the Association to establish a task force to make further changes to the GAA calendar that would deliver a more meaningful off season for inter-county players.