Ulster Grand Prix: Thursday race victories for McLean and Cummins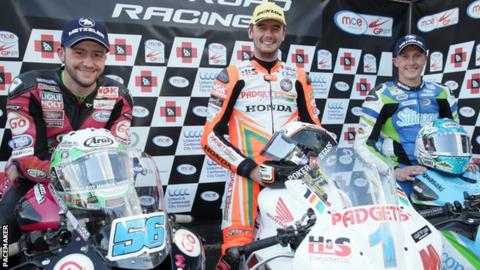 Ulster Grand Prix international road races
Dates: Wednesday 8 August-Saturday 11 August Venue: Dundrod circuit, County Antrim
Coverage: Commentary on all races live on BBC Radio Ulster and the BBC Sport website; Highlights on BBC One NI at 22:35 BST on Friday 10 August, 22:30 BST on Sunday 12 August and 22:40 BST on Monday 13 August
Adam McLean secured a maiden Ulster Grand Prix victory while Conor Cummins won at Dundrod for a second time in Thursday's rain-hit racing.
Tobermore rider McLean eased to Supertwins success with Christian Elkin second and veteran Ian Lougher third.
McLean was beaten into second place by Manxman Cummins in the Supersport race and Dean Harrison completed the podium.
Neil Kernohan (Lightweight) and Elkin (Ultra-lightweight) also won but the Superbikes were not run due to a delay.
The Supersport race was only in its second lap when the rain came down to halt the action and result in a two-hour delay.
When the clouds cleared the programme was reshuffled with the Supertwins going out first and it was a superb performance from McLean, who led from start to finish.
The 22-year-old was pushed in the early laps by Elkin before pulling clear and winning by over five seconds.
It was McLean's first appearance on an international road race podium and he dedicated his win to James Cowton, who died in a crash in the Isle of Man last month.
"It was nice to win and that one is for James Cowton," said McLean.
"This is just my third year on the roads and it's shown what we are capable off. I'm now looking forward to Saturday's racing."
McLean had to settle for second spot in the re-run Supersport race and he challenged Cummins before the 32-year-old powered away to double his tally of UGP wins - the first came in 2009.
"I'm very happy to be on the top step again - the bike was faultless and I had a really good ride," said Cummins.
There was also a second Ulster Grand Prix success for Galgorm man Kernohan in the Lightweights, which was jointly run with the Ultra-lightweights as Englishman Elkin chalked up his third Dundrod win.
Supertwin
1. Adam McLean
Kawasaki
111.784
2. Christian Elkin
Kawasaki
111.248
3. Ian Lougher
Kawasaki
108.284
4. Michael Sweeney
Kawasaki
108.275
5. Davey Todd
Kramer
108.267
6. Joey Thompson
Paton
106.575
Supersport
1. Conor Cummins
Honda
122.974
2. Adam McLean
Kawasaki
122.203
3. Dean Harrison
Kawasaki
121.733
4. Davey Todd
Honda
121.505
5. Peter Hickman
Triumph
120.410
6. Joey Thompson
Kawasaki
118.491
Lightweight
1. Neil Kernohan
Honda
110.873
2. Shaun Anderson
Honda
110.121
3. Darryl Tweed
Kawasaki
108.221
4. Stephen Morrison
Kawasaki
107.681
5. Gareth Keys
Yamaha
107.667
6. Paul Gartland
Yamaha
102.903
Ultra-lightweight
1. Christian Elkin
Honda
107.712
2. Michal Dokoupl
Ariane
105.019
3. Nigel Moore
Honda
101.888
4. Melissa Kennedy
Honda
101.752
5. Lorenzo Tiveron
Honda
101.680
6. Sarah Boyles
Honda
95.065
Ulster Grand Prix schedule
Saturday 11 August - Roads close for seven-race programme from 09:30 BST to 20:30
Race one - Superstock; Race two - Supersport 600; Race three - Lightweight/Ultra-lightweight; Race four - Superbike; Race five - Supersport 600; Race six - Supertwins; Race seven - Superbike