European Championships: Irish medal hope Barr reaches 400m hurdles final
Last updated on .From the section Northern Ireland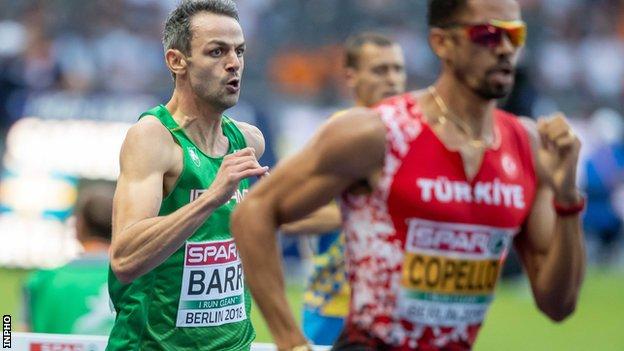 Ireland's medal hope Thomas Barr produced a composed run to clinch a place in the 400 metres hurdles final at the European Championships.
Barr produced his trademark strong closing 100m in Berlin as he clocked 49.10 seconds to earn automatic qualification for Thursday's final.
The Waterford man came in behind Turkey's Yasmani Copello who pipped him for bronze at the Rio Olympics.
Norway's world champion Karsten Warholm and Copello look the athletes to beat.
Warholm won the first of the three semi-finals at a canter in 48.67 with Copello looking extremely strong as well as he clocked 48.88 to finish ahead of Barr.
The Irishman needed his two-two finish to progress as third-placed Italian Lorenzo Vergani's time of 49.41 did not secure a fastest loser's spot.
Belfast man Scullion 23rd in 10,000m
Barr's team-mate Phil Healy, predictably, found the going tough in her 100m semi-final as her time of 11.46 left her seventh and 0.30 off a qualification spot, as Britain's Dina Asher-Smith won the race in 10.93.
With the sweltering temperatures still well over 30 centigrade during the evening's men's 10,000m, Belfast man Stephen Scullion found the going tough as he finished 23rd in 29:46.87 after being lapped late in the race.
The 29-year-old said he had struggled with his "breathing" during the race although he appeared none the worse for the experience afterwards.
"I believed I was in PB shape but obviously I wasn't. I'm proud of myself but I know I've got to work harder," Scullion told RTE.
Scullion's time was 70 seconds outside his best time set in Oregon earlier this summer.
He also achieved a marathon qualifying standard for the Berlin championships but opted to instead make his first appearance at a major track championship for Ireland.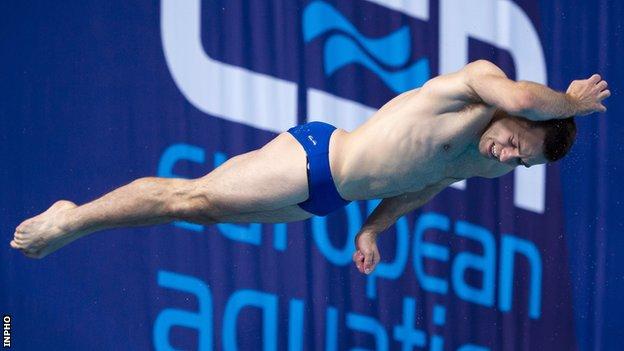 Ireland's Dingley narrowly misses diving medal
Ireland's Oliver Dingley narrowly missed out on a diving medal as he finished fifth in the one-metre springboard event.
After squeezing into 12-man final as 11th qualifier, Yorkshire-born Dingley was in fourth spot going into the final dive of six.
His final total of 385.65 points left him 6.05 behind Britain's bronze medal winner James Heatly as Dingley's fellow-Harrogate man Jack Laugher won gold for Britain.
Laugher's total of 414.60 left him well ahead of Italy's Giovanni Tocci (401.10).
Dingley, 25, was eligible to switch allegiance to Ireland in October 2014 because of his Irish grandmother and he became his adopted country's first Olympian in 68 years when he competed in Rio.
Dingley also in Thursday's three-metre event
In the earlier qualifying competition, Dingley's Irish team-mate Jack Ffrench finished 26th overall.
Dingley will also compete in the three-metre event on Thursday, with the diving events all taking place in Edinburgh.
Also in the water, Darragh Greene, who missed out on a place in the 100m breaststroke final after a swim-off for the final qualifying spot, finished 12th in the 50m breaststroke after clocking 27.66 seconds in the morning heat and 27.44 in his semi-final.
Longford man Greene missed out on a place in the final by 0.27 seconds.
His team-mate Alex Murphy did not progress after producing a time of 28.09 while youngster Niamh Kilgallen exited in the 200m individual medley after clocking 2:21.97 in her heat.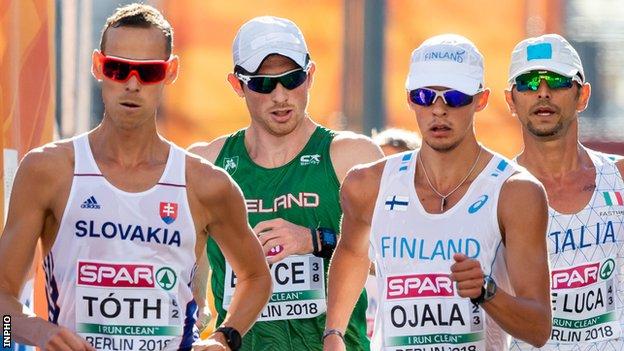 Boyce 19th in 50km walk
In the athletics competitions in Berlin, Donegal man Brendan Boyce finished 19th in the 50km walk at the European Championships in Berlin after being with the leaders for much of the race.
Boyce was second after 26km and fifth after 34km but dropped back as temperatures exceeded 30 centigrade.
The Milford man's time of four hours, two minutes and 14 seconds left him almost 15 minutes behind winner Ukraine's winner Maryan Zakalnytskyy.
Slovakia's Olympic champion Matej Toth took second with Belarus' Dzmitry Dziubin in third.
Boyce's Ireland team-mates Siofra Cleirigh-Buttner and Claire Mooney both failed to progress from the women's 800m heats.
Cleirigh-Buttner finished sixth in her heat in 2:02.80 - just under a second outside her personal best - with Mooney fading in the closing stages to take seventh in her race in 2:04.26.
Mooney set her personal best of 2:01.61 a fortnight ago.
Sligo athlete Chris O'Donnell clocked a season's best of 46.81 in his 400m heat but his time was 0.64 seconds outside a fastest loser's spot.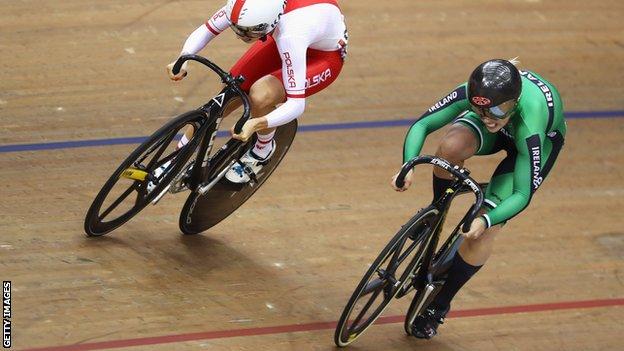 Boylan and Gurley eighth in Madison
In track cycling, Northern Ireland Commonwealth Games competitor Lydia Boylan and her partner Lydia Gurley finished eighth in the Madison event in Glasgow.
The Irish duo finished second in one of the sprints with 20 laps to go but didn't get into medal contention as Denmark took the gold ahead of Russia and the Netherlands.
Northern Ireland's Robyn Stewart narrowly missed out on qualifying for the Keirin semi-finals after finishing second in her repechage race.
Stewart had to go in the repechage after placing fourth in her first-round heat and was then pipped by Russian Daria Shmeleva who took the sole qualifying spot.